Lyon and Barcelona were on a do-or-die comeback mission this week as they looked to overcome daunting first leg deficits in the semi-finals of the Champions League.
Both teams entered their respective home ties with optimism and confidence, but neither managed to get the job done, although the results on the night were vastly different.
Bayern Munich cruised into the May 22 Santiago Bernabeu final with ease and style as they swept past OL 3-0 at the Stade Gerland thanks to a stunning Ivica Olic hat-trick. Inter, meanwhile, revisited the glory days of catenaccio football as they locked out Barca for 85 minutes and a solitary Gerard Pique striker was simply not enough for the departing champions to overturn a 3-1 first leg reverse at San Siro.

As always, there were tops and flops from these games. Goal.com takes a look…
TOPS
Ivica Olic (Bayern Munich)
No surprises here. The under-rated Croatian international sent Bayern into the final in some style as he notched up a hat-trick to complete a 4-0 aggregate rout over Lyon in the first semi-final. His 26th minute opener was decisive as it gave his team the vital away goal that they were looking for and it knocked the sails out of the French outfit. His other two strikes were beautifully taken and to top it off, he is now well in the race to take the competition's Golden Boot, as he currently sits in second place with seven goals, one behind Lionel Messi but with a final to play.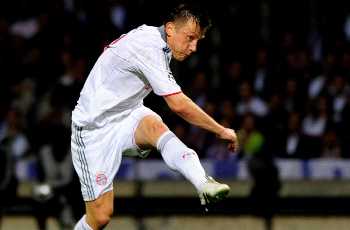 Ivica that a lot | Olic grabbed hat-trick
Lucio + Walter Samuel (Inter)
Javier Zanetti was the defensive linchpin in the first leg as he completely neutralised Messi's threat. But in the return leg at the Camp Nou, it was Brazilian stalwart Lucio and his chief collaborator Walter Samuel, two South Americans, who would make any catenaccio master proud. The duo combated every type of attack Barca could muster. Crosses and high balls were easily dealt with, the aerial and physical presence of Zlatan Ibrahimovic was nullified, and their tackles, interceptions and challenges were timed to perfection.
Gerard Pique (Barcelona)
One man who did manage to break the Lucio-Samuel code was Pique. Granted, it was Xavi's through ball that unlocked the Inter backline, but the centre-back took his opportunity like a seasoned centre-forward, coolly controlling the pass with a nice first touch before spinning past Ivan Cordoba and Julio Cesar and finishing off his move with a clinical strike. Prior to that lifeline goal, he was phenomenal in defence. Although he had little to do by way of tackling and marking, he was instrumental in bringing the ball forward after breaking up Inter's counter-attacks.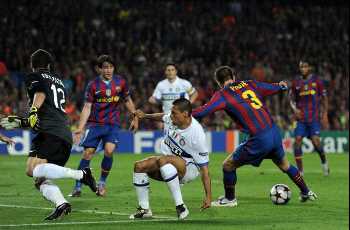 Pique that one out | Semi-final goal
Esteban Cambiasso (Inter)
The entire two lines of defence set up by the Nerazzurri were rock solid, it has to be said, but was the first line of defence who was always the last man to clean up the trail of mess left by Lionel. His tireless work-rate in midfield also limited Xavi's opportunity to pick out a killer pass and that alone may have won Inter the semi-final battle as it forced Barcelona to linger and waste precious time on the ball while at the same time compelling the Blaugrana to take fruitless attempts at goal out of frustration.
FLOPS
Cris (Lyon)
The captain and the rock of the OL defence crumbled to the ground with an insipid performance against Bayern. He was nowhere to be seen inside his own box in Olic's crucial opening goal and he went missing for the remainder of the game until his sending off in the 59th minute. His void was gratefully exploited by the Bavarians as Olic went on to bag two more to bring a nightmarish end to Les Gones Champions League run. A disappointment to see a captain let his team down.
Sergio Busquets (Barcelona)
Spain saw some of the greatest acting since Javier Bardem in Vicky Christina Barcelona, as Busquets rolled around in pain following the lightest of hand-offs from Inter's Thiago Motta. Arguably worthy of a second yellow card, the Inter man was shown a straight red for the incident - although his post-card antics of grabbing Sergio by the neck probably won't help any appeal process. Reminiscent of Rivaldo's infamous face-clutch against Turkey in World Cup 2002, it was hugely embarrasing on a night Barca will want to forget in a hurry.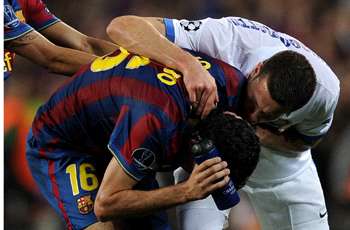 Motta way to go | Sergio is an embarrassment
Gaby vs Diego Milito
The much-hyped sibling rivalry didn't quite materialise into the all-out war on the field. Fans who had heard about or seen the Milito brothers squaring off back in their early days in Argentina in the Avellaneda clasico were eager to see a rematch, but it simply didn't happen. Gaby was deployed wide left by Pep Guardiola while Diego, operating as the lone striker, barely had a touch of the ball before his younger brother was substituted at half-time. In fact, they didn't even have direct contact once in the entire 45 minutes, other than the exchange of pleasantries before kick-off.
Zlatan Ibrahimovic (Barcelona)
Ibrahimovic was never going to have an average game. He was either going to be Barcelona's hero, or a big zero. Unfortunately for him and the Blaugrana, it was the latter. Unlike in the first leg, Zlatan saw plenty of the ball this time. He peeled out wide on occasion to help the attacking build-up, he had countless crosses and decent through balls come his way, he got into threatening positions, but never once did he cause any danger inside the Inter box. Only had one shot in the 63 minutes he was on the pitch, and even that went wide. From a freekick.
Become a fan of Goal.com UK's Facebook fan page for all the latest news and insight into everything related to the beautiful game!