By
Neil Jones
| Liverpool Correspondent
To the casual football observer,
Dirk Kuyt
can appear something of a mystery. He might be a seasoned professional, with more than 50 caps for the
Netherlands
, and have 200 career goals to his name, but the most famous son from the tiny Dutch fishing village of Katwijk aan Zee is not your average modern-day footballer.
On the pitch, the 29-year-old can appear sluggish, ungainly even. His first touch can have supporters apoplectic with rage, and his lack of genuine pace - on and off the ball - can make his right-wing position seem absurd.
But, as already noted, Kuyt is not your typical footballer. Just ask the Nepalese and Brazilian children helped out by the incredibly selfless charity foundation he runs with his wife, Gertrude. Failing that, just ask Rafa Benitez and the Liverpool supporters.
Saturday's 1-0 victory over Merseyside rivals Everton saw Benitez's Liverpool side stretch their unbeaten league run to seven matches, leapfrogging Tottenham Hotspur into the coveted fourth Champions League spot in the process. But lost amid the passion and aggression of a powderkeg Anfield atmosphere was a rather significant landmark for their Dutch destroyer.
Kuyt's winning goal was his 50th for Liverpool. And whilst a half-century scored in 177 games may not set the pulses racing, it is worth remembering that Kuyt has spent the bulk of his time at Anfield as a wide midfielder, and it is testament to his big-game mentality (and scoring record) that there is plenty of debate as to whether Saturday's strike was his most important.
The Dutchman is not the first Liverpool player to reach a milestone at Anfield this season, of course. Fernando Torres tore up the record books when he reached his 50th Premier League goal in just 72 games, and whilst Kuyt lacks the X-Factor and the marketability of his Spanish counterpart, there can be little doubting either man's importance to the Reds' cause.
Ironically, Torres' signing in 2007 could well have spelt the end of Kuyt's stay on Merseyside. The Dutchman had been brought in from Eredivisie giants Feyenoord a year previously for a healthy £10 million fee, and had the then-Spurs-manager Martin Jol declaring that Liverpool's new signing was a "20-20" player (20 goals and 20 assists a season).
It didn't quite work out like that in truth; Kuyt netted 14 times in his debut season in England, but Liverpool finished in a distant third place, and Benitez identified Torres as a more dynamic, prolific solution for the Reds' attack.
Lesser players - lesser characters - may have withered following the arrival of a new darling to Anfield. Not Kuyt. Benitez's decision to redeploy the former FC Utrecht man on the right of midfield raised more than a few eyebrows - pace is perhaps Kuyt's greatest weakness, after all - but the Spaniard sees through the aesthetic shortcomings, past the sensational headlines, and sees a man devoted to Liverpool.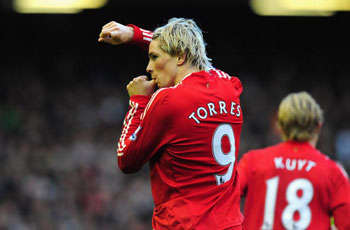 Strike force | Torres' arrival sparked Kuyt form
In truth his second season at Anfield was easily his worst to date. He laboured through autumn and winter, dazzled in the glare of Torres, who was en route to a phenomenal debut-season total of 33 goals in all competitions.
But the knock-out stages of the Champions League brought Kuyt to life. Whilst even the best players are often accused of shirking their big-game duties, with Kuyt there is never an issue.
The opening goal against Inter at Anfield in the last-16, a critical equaliser at Arsenal in the quarter-finals, and the opener against Chelsea in the semis all followed. Kuyt's diligence in defence ensured his right-back was rarely exposed, his striker's instinct enabled him to pop up in the right place at the right time, just when Liverpool needed him.
There are still those who need convincing. Every summer Liverpool supporters implore Benitez to add some flair, some craft to the Reds' flanks. Kuyt's functional nature is all well and good, they say, but what about some guile, some mesmeric dribbling? They see Torres, the embodiement of the perfect modern-day centre forward - tall, strong, quick, prolific - and want that replicated all over the pitch.
Yet whilst every team would love a Torres (or 10 of them), the argument can be made that every team
needs
a Kuyt or two. Someone who gives you everything, every single week. Someone who leads by example, no matter the circumstances. It is no surprise that when Steven Gerrard and Jamie Carragher were absent this season, Benitez handed the captaincy to Kuyt.
Of course this season has not been the best - for Liverpool or for Kuyt. The disappointment of a title-challenge which ended in October has hurt the club, as has their ludicrously-early exit from the Champions League. Injuries to key players has only exacerbated the sense of crisis which has - perhaps prematurely - gathered around Anfield.
Yet out of the ashes has risen a seven-game unbeaten run. And at the forefront of it has been guess who? Kuyt netted twice against Tottenham when the Reds were seemingly at rock-bottom, having been ushered out of the FA Cup by Reading; he grabbed the nerve-settling opener against Bolton; and on Saturday he continued his impressive goalscoring record against Everton with another critical strike. He now has four goals against the enemy - only Gerrard and Robbie Fowler have more in the Premier League era.
If Benitez were to listen to those demanding a new winger, he would have 50 clubs knocking on his door for his no. 18. The Kop may adore Torres for his goals and his grace, but they are well aware that in Kuyt they possess another very special footballer.
Not that the down-to-earth Dutchman would ever admit it, of course.