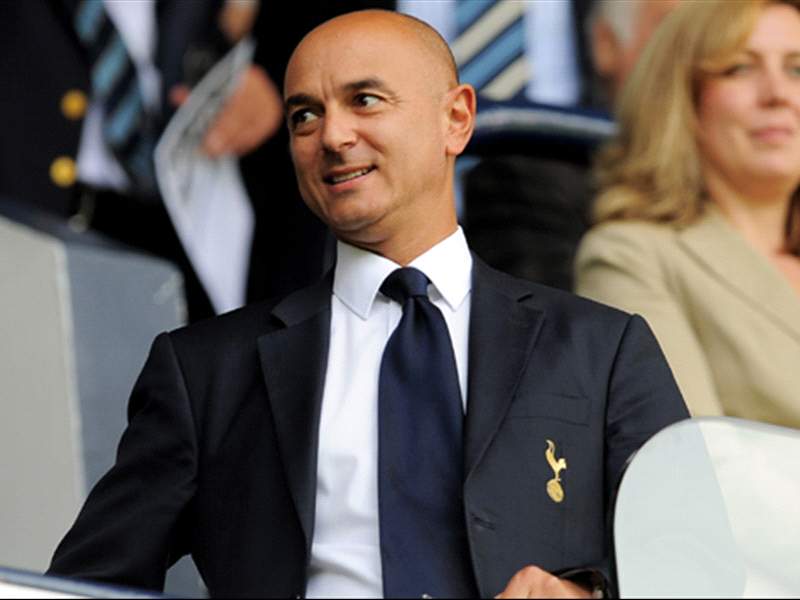 COMMENT

By Jay Jaffa
A new state-of-the-art training ground, plans to move into a 56,000 seater stadium, a squad full of talent, sound financial footing and a board willing to spend to secure regular
Champions League
status. Managing
Tottenham
has never looked so enticing.
It seems an age since a summer provided so many Premier League casualties and though most of the vacancies have been filled, possibly the most attractive surfaced on Wednesday night as Harry Redknapp was relieved of his duties at White Hart Lane.
Daniel Levy's next move will garner more interest than the uncertainty that surrounded the Chelsea or Liverpool jobs as the club look to press on with the encouraging groundwork laid by Redknapp.
The one-time FA Cup winner was a short-term appointment who over-achieved and earned a much longer spell in charge of the club. Yet, he never shared the long-term vision for the club – something that would always count against him.
The club are set to move to a new training base this summer – tipped to be one of the most advanced facilities in Europe – while plans for a new stadium in Tottenham are making steady progress. Simply, while the club was being built around him, Redknapp failed to keep up, leaving the board no choice but to chase a manager prepared to provide the long-term planning the new facilities merit.
The bookmakers early favourite is
David Moyes
and some have even stopped taking bets on the Scot pitching up at White Hart Lane. Judging by Tottenham's recent history he seems to fit the profile.
Moyes has shown in his 10 years at Everton that he is capable of squeezing every last drop of potential from a thin squad – consistently keeping the Toffees in the top half of the Premier League.
He has worked admirably under testing financial constraints – with a net spend of just under £20 million in his time at Goodison Park. It isn't clear what Tottenham's position is at present. In the last 12 months a substantial profit has been made via the transfer market, but it is unclear whether the short-term replacements merely reflected the precarious position of Redknapp.
Moyes represents a safe pair of hands for Levy. It is unlikely he will carry the gung-ho attitude Redknapp exuded though, and it is possibly a distant dream that Spurs would be deemed title contenders under him, but if his missive is to obtain Champions League football, logic suggests he is the best bet.
Fans were constantly reminded by Redknapp over the years that the football the team played was the best the club had seen. If style is a prerequisite to get the job, critics will point to the reactive, back-foot football of Moyes as a reason to look elsewhere.
Roberto Martinez
is bound for greater things than a never-ending relegation struggle at Wigan and his time at the DW Stadium has been admirable. The Spaniard has had his hands tied in the transfer market with a lack of investment, yet has developed a fascinating playing style that confounded adversaries in a run-in that included wins over Arsenal, Liverpool, Manchester United and Newcastle.
It is unclear whether Martinez is the real deal or just the flavour of the month though. The Spaniard endured a painful start to the campaign but largely avoided criticism (because of the lack of expectation surrounding Wigan), instead lapping up the plaudits when his side narrowly survived relegation – hence the generous praise afforded to him. Redknapp on the other hand, let a very healthy position slip, enduring a difficult second-half to the campaign that ultimately cost him his job.
It is hard to quantify how good Martinez is. He has over-achieved at Wigan – a good sign – but has yet to manage in the Premier League under the weight of serious expectation. Should Levy appoint Martinez, it would be a sizeable gamble and one that carries a shade too much risk if the club are simply chasing top four stability.
If he is looking for a manager capable of building a dynasty – entirely plausible given the heavy links to Brendan Rodgers earlier in the season – then Martinez becomes a very real option.
Another long-term option is
Andre Villas-Boas
. There is no doubt the Portuguese has talent but Levy will insist on appointing someone with proven Premier League credentials. An unhappy six months at Stamford Bridge hardly screams 'natural successor' but Villas-Boas does retain an impressive CV whilst his reputation remains largely intact.
However, the nature of his time at Chelsea should worry potential Premier League suitors. He couldn't impose the style of play that made him so successful at Porto and was ousted by a core of influential and experienced players. That wouldn't be an obstacle for a younger, more impressionable Tottenham squad, but it may cast seeds of doubt over the authority he carries on the training ground. In short, he would be a risky appointment.
There are also two out of contract Champions League winning managers who have expressed an interest in managing in the Premier League.
Rafa
Benitez
and
Fabio Capello
both hold hugely impressive CVs and should be considered by Tottenham.
Capello may be the big name manager Tottenham need if they are to retain the services of Luka Modric and Gareth Bale. His reputation within the game, despite the England debacle, remains unrivalled. At club level, he is one of the most successful coaches in the game – and certainly the most decorated of the realistic unemployed options.
However, he is the antithesis of Redknapp – a strict autocratic manager who may struggle to gain the affection of the players.
Benitez, though laughed out of the San Siro, following his dire tenure at Inter, should be a realistic candidate. He has remained active outside of the management game, delivering seminars and talks on his footballing beliefs. He is clearly a devoted student of the game and though some may deride the style of play he mustered at Anfield, he would bring the analytical, statistic-driven coaching many feel Redknapp ignored.
Redknapp didn't so much as build something at Spurs – rather he balanced a decent squad with a few well considered purchases. The squad was strong enough to achieve third but it didn't and now is the time to hire a man capable of building towards the next level.
Whichever direction the club turn, and it could well be someone not mentioned – Laurent Blanc, Luciano Spalletti, Jurgen Klopp - Daniel Levy cannot afford a protracted interview and hiring process. This summer was already set to be demanding and will be made more so with every passing day.