COMMENT
By
Andy Brassell
Many would say that another controversy surrounding
England
is probably the last thing
Fabio Capello
needs right now, but throughout his career the Italian has cared little for popularity and should bite the bullet again.
MORE...
He must do what many England followers consider unpalatable, and select
Everton
's
Mikel Arteta
for the national side.
The San Sebastian-born midfielder has little chance of making the Spain squad, capless at 28 and facing competition including Cesc Fabregas, who can't even make the XI.
Arteta is eligible for a British passport (and thus to commit to the British national team of his choosing) having now been resident in the UK for five-and-a-half years. He arrived on loan from Real Sociedad in January 2005 and completed a permanent move to Goodison Park that summer for a bargain £2 million.
One thing is for sure - if we're looking at ability alone, Arteta is surely a shoo-in. He is one of the best passers in the Premier League, a Rolls Royce among English-based midfield players.
He reads the game beautifully, but is no pushover, despite his relatively-slight frame. Arteta is also versatile enough to turn his talents to the use of his team; at Everton, he bosses set-pieces, creating his share of goals as well as contributing to the team's tally himself.
Winging in | Arteta has starred for Everton - should he be picked for England?
Possession, you may well have tired of hearing, is a big problem for England. Yet there's a reason the statement is so often repeated - because it is a blindingly obvious and seriously damaging handicap.
Perhaps the key game in underlining this in England's World Cup fiasco was the second group game, against Algeria.
Certainly Rabah Saadane's side were foolishly cavalier at the back and could have taken a beating from a side in any sort of nick, but they still moved the ball far better than Capello's men. A damning indictment against a side composed largely of middling Premier League, Ligue 1 and Bundesliga players.
Capello extended deadline after deadline to allow Gareth Barry to be included in South Africa, reasoning that his role in front of the defence is a key one. Sadly, Barry is not the man to execute it to an acceptable standard, as he showed at the World Cup.
His lack of match practice may have explained limited mobility, but it did not excuse continually wasteful use of the ball.
Arteta's childhood friend Xabi Alonso showed how important this position is simply by leaving Liverpool. The Reds looked an infinitely poorer team for not being able to transfer the ball out of defence with accuracy, as poor Jamie Carragher's limitations on the ball were exposed.
Arteta was actually groomed in the Guardiola/Alonso role in the youth system at Barcelona and would probably work best for England here, despite usually playing further forward for Everton.
No doubt his pedigree will matter little to the naysayers, who will consider the very idea of him being considered as an insult to England's pride. There is a blunt riposte to that. Firstly, that if Arteta should apply for and receive citizenship and be called up, it would be his legal right to participate.
Secondly, international football is changing. Dangerously overshadowed by the Champions League and the rampant commercialisation of the European game in general, it has to adapt, and coaches (and administrators) need to be more adaptable.
Germany and Spain have already grasped this, with the former calling up Brazilian-born Cacau and the latter having Marcos Senna (also from Brazil) as a cornerstone of their Euro 2008 triumph.
The moral side of it is a very grey area indeed. Despite the close historical relationship between Brazil and Portugal, many in the latter country were unhappy when Deco, a player born in the former, was picked for their national side in 2003. His countrymen and fellow Portugal settlers Pepe and Liedson followed with less fanfare in subsequent years after his acceptance.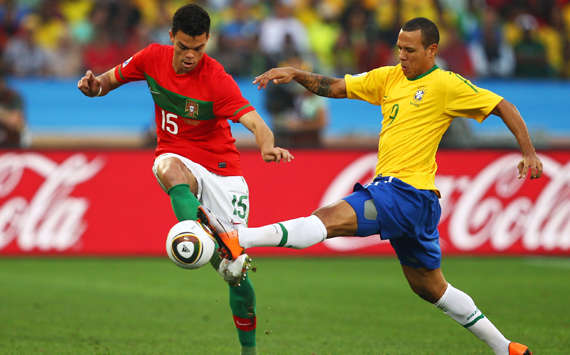 Which side am I on? | Brazil-born Pepe played against the land of his birth at World Cup
Speaking at Euro 2008, Pepe made a persuasive argument for picking naturalised players. Having arrived at Maritimo at the age of 18, the Real Madrid player argued that: "I grew up into a footballer in Portugal. I owe the country a lot. When I go home for the holidays, that's where I go."
Similarly, Arteta is settled on Merseyside, at home, and thoroughly indoctrinated in English football culture.
Critics will point to the failure of previous suggested naturalising (and inclusion) of players as proof of England's resistance to the idea. But arguments previously made for Carlo Cudicini and the more willing Manuel Almunia to be picked hold considerably less water for the simple reason of quality - Almunia has never truly convinced as a top-class goalkeeper and Cudicini chose to accept playing second fiddle at Stamford Bridge for four-and-a-half years after the arrival of Petr Cech from Rennes.
There's no doubt England has a problem with naturalised players. With the UK's fine history of assimilating and accepting different cultures, it really shouldn't have, and it's time - as we all said after the World Cup - for a change.
The first will break down the barriers, and it should be Arteta. There is neither a moral nor a legal reason why this shouldn't be the case.