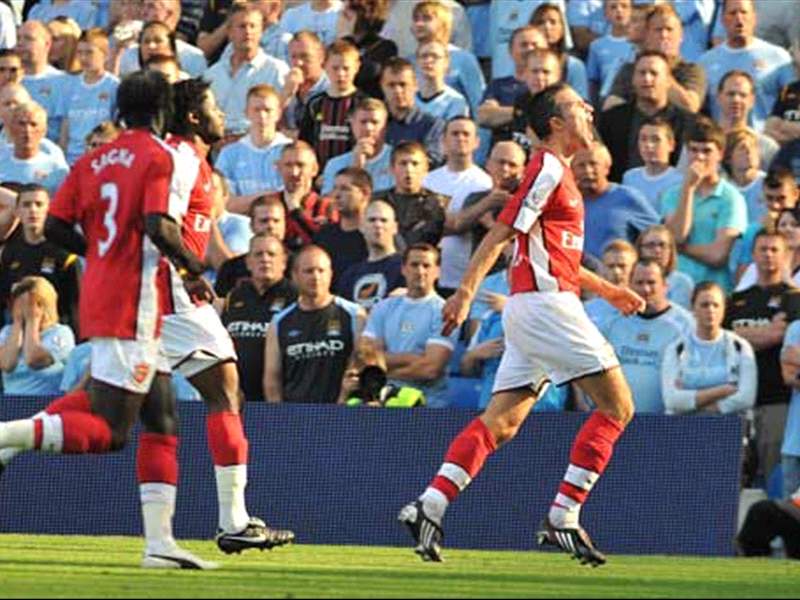 By
Wayne Veysey
| Arsenal Correspondent
If
Arsenal
are to surge to their first
Premier League
title since the 'Invincibles' swept all before them, they are going to have to do so without their talisman
Cesc Fabregas
and possibly
William Gallas
and
Andrey Arshavin
, too.
But
Robin van Persie
's imminent return after five months on the sidelines offers hope that he can kick-start the creaking machine.
The Dutchman has returned to training and, assuming he comes through unscathed, will be expected to play some part in Wednesday's north London derby against bitter rivals Tottenham Hotspur.
As far as manager Arsene Wenger is concerned, once a player starts full training, he is fit to return to the first-team squad.
What the Dutchman lacks in match fitness, he can make up for with an eye for the unexpected and a freshness that could help his team-mates rediscover their zest.
Van Persie's ability to play anywhere across the front three will also help rejuvenate an Arsenal forward line that has been unreliable in Fabregas' absence.
The classy forward's imminent return is one of several reasons why, in less than a week, events have conspired to leave even the most cynical Arsenal fan dreaming of silverware in May.
1. Eight days to get over the Messi masterclass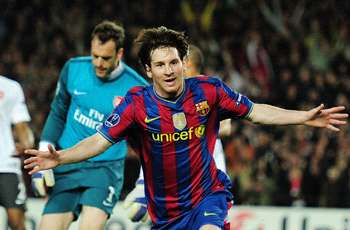 By the time Arsenal stride out at White Hart Lane on Wednesday night to a backdrop of lilywhite hostility, the players will have had eight days to recover from the Lionel Messi masterclass in the Nou Camp.
Arsene Wenger gave his players three days off following their Champions League exit to recover from what had been a physically and mentally exhausting few weeks that had stripped the team of its marquee players and stretched the squad's resources to breaking point. The north London derby will be Arsenal's 51st fixture this season, which is par for the course for the habitual Champions League quarter-finalists, but physio Colin Lewin claims it is the worst injury pile-up he has experienced in 14 seasons at the club.
The break afforded Arsenal by the FA Cup semi-finals has enabled the players to get Barcelona out of their systems, lick their wounds, put their feet up and concentrate on what remains a realistic assault on the title. The derby is Arsenal's final midweek fixture of the season. Interestingly, for a club that has been so badly affected this season by what Lewin calls "traumatic" injuries, there is a week-long gap between each of their final four matches. 

2. Manchester United's meltdown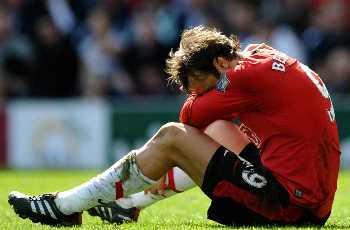 During Sir Alex Ferguson trophy-studded reign, Manchester United have established an enviable reputation for peaking unerringly at 'Squeaky Bum Time'. As the first daffodils shoot up, the high performance United vehicle habitually eases into top gear. Not this season. United have endured a traumatic fortnight that has detonated their dreams of a third consecutive Champions League final and put a severe dent in their hopes for a fourth successive domestic title. Lacklustre against Chelsea and Blackburn Rovers, Wayne Rooney's ankle troubles have robbed United of their vim and vigour as well as their cutting edge. Without their one-man wrecking ball, United suddenly look vulnerable and ordinary.
3. Sun-filled Sabbath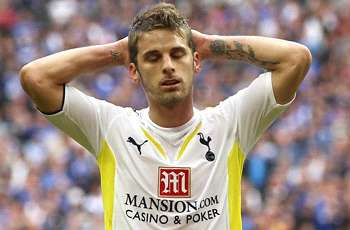 While enjoying the spring sunshine, Gooners will have had more than half an eye on events at Ewood Park and Wembley. Arsenal will climb above Rooney-less United if they can defeat battle-weary Spurs on Wednesday. It will not have gone unnoticed at London Colney that Harry Redknapp's team played 120 minutes on the draining Wembley surface on Saturday and the physical battering will have been made even more painful by the demoralising nature of what, even Pompey fans might admit, was an unfortunate defeat. Spurs fans will be even more desperate to put a final nail in Arsenal's trophy coffin while simultaneously trying to hang on to Manchester City's coat-tails in the battle for fourth place. However, Redknapp will be without his midfield dynamo Wilson Palacios (suspended) and Croatian pair Vedram Corluka and Niko Kranjcar are doubtful after picking up injuries at Wembley.
4. Derby day history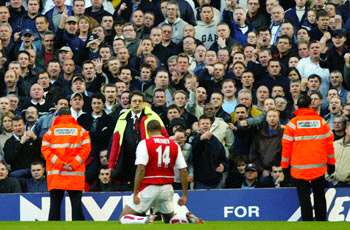 White Hart Lane remains a generally happy hunting ground for Arsenal. The Gunners are unbeaten in N17 in the new millennium and were last defeated at the home of their great rivals in November 1999 when Tim Sherwood struck the winner for George Graham's side. That is the only occasion Arsene Wenger has tasted Premier League defeat at the stadium in 14 visits.
5. Manuel Almunia's improvement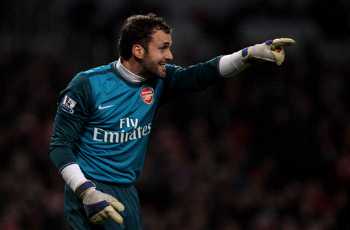 Lampooned and criticised in equal measure during what has been a frequently fraught tenure in the Arsenal goal, there are signs that Manuel Almunia is becoming an increasingly reliable custodian. Strange as it may sound for someone who had to pick the ball out of the net six times in 180 minutes, the Spaniard emerged from the quarter-final shellacking at Barcelona's hands with his reputation enhanced. He is still prone to positional errors but he appears to be far stronger mentally than the 'Fawlty' Manuel figure who has been an accident waiting to happen for much of the last three seasons.
Become a fan of Goal.com UK's Facebook fan page for all the latest news and insight into everything related to the beautiful game!