By
Neil Jones
| Liverpool Correspondent
So the Deloitte Football Money League has been published for 2009, and for
Liverpool
fans, it makes for very interesting reading.
The table - which ranks European clubs in terms of revenue generated – shows the Reds have risen a place to seventh for the 2008-09 season, but also highlights the gap that is emerging between the club and the rest of English football's 'big-four' cartel.
Liverpool's revenue for last season stands at £184.8 million, but compared to Chelsea (£206.4m), Arsenal (£224m) and Manchester United (£278.5m), they are lagging way behind.
The explanation for such a deficit requires only a simple glance at the breakdown of Liverpool's revenue streams, in comparison with other clubs. And in particular, one area: match-day revenue.
Dan Jones, partner for Deloitte's Sports Business Group spells it out: "When compared to Arsenal, Chelsea and Manchester United it is the area of match-day revenue where Liverpool noticeably fall short of their rivals.
"Liverpool made £42.5 million in match-day revenue whilst Manchester United and Arsenal - with their bigger stadium capacity - made more than £100 million, and Chelsea – even despite a smaller ground - earned £75 million. It is a gap Liverpool have to bridge, and they are acutely aware of that."
A new stadium has long been high on the club's agenda, with plans for a new arena on Stanley Park – a stone's throw from Anfield – having been floating round Merseyside since the late 1990s.
And these latest financial figures will serve only to embellish the belief that the building of such a venue is of paramount importance if Liverpool are to retain, and build upon, their place amongst the world's elite football clubs.
For the club, plans for a new, 73,000-seater stadium are currently at a delicate stage. In December, Merseyside Council Leader Warren Bradley stated that he expected the green light for building work to be given "in or after the second quarter of 2010".
This claim was later rejected by Reds' managing director Christian Purslow, who has been publicly seeking around £100m of fresh investment in the club across the world, in a bid to drive down the restrictive £237m debt loaded onto the club by co-owners George Gillett and Tom Hicks.
Financially, the new stadium would provide an incredible boost – in the long run, at least. Securing enough investment to ensure the arena is built may force a tightening of belts at Anfield, and could well put off potential benefactors but, as Arsenal have found out since the Emirates Stadium was opened in 2006, a plush new arena brings with it a multitude of financial benefits. In 2008-09, the Gunners made the most in the world from matchday revenue - even more than Real Madrid.
Naming rights is one potential benefit, and Liverpool's commercial director, Ian Ayre, told Goal.com UK in January that talks have already taken place between the club and a number of major companies with regards to the right to name the Reds' new home.
Considering Arsenal collected around £100m from their deal with Emirates Airlines in 2006, and that Liverpool enjoyed an impressive 25 per cent rise in their commercial revenue last year, the Reds will be hopeful of securing plenty of investment from a similar move.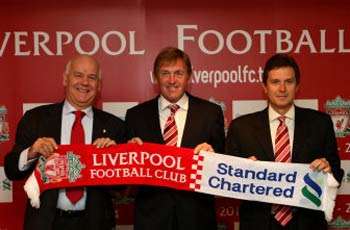 Set the Standard | New deal will benefit Reds
Additionally, there are plans for the Reds' new arena to contain around 10,000 corporate seats, which despite the inevitable sneers and disdain from the traditionalists, is a massive revenue generator for any club.
Anfield currently seats around 350 corporate spectators, another indication of how far the club has to go to match their rivals. Arsenal, for example, make almost as much from their corporate customers as they do from ordinary ticket sales, and are well on the way to becoming a self-sufficient club as a result.
On the field, of course, Liverpool have plenty of other issues to ponder. The club netted £50.3m from its second placed Premier League finish last season, but being currently embroiled in a four-way battle for fourth place, that figure is likely to be substantially lower next year.
Purslow himself commented in November that a sustained run in the Europa League, in which the Reds recently qualified for the last 16, would offset the revenue lost by this season's early exit from the lucrative Champions League; but failure to qualify for next season's premier European competition would have a marked effect, on and off the field - especially considering the fact that UEFA have announced a provisional increase in their Champions League TV and sponsorship deals, as of next season.
Liverpool earned £19.7m from their Champions League campaign in 2008-09, and £23.3m for 2007-08. It doesn't take a mathematical genius to see that failure to dine at Europe's top table next season would have a massive impact on the balance sheets. And that is without considering the impact it would have on the club's ability to attract and retain top class players, and challenge for major honours.
There are some bright spots for Reds fans. Their commercial team, as revealed by Ayre, are enjoying a successful spell building the global reputation of the club, raking in £67.7m last year, and a new shirt sponsorship deal with Standard Chartered bank will net the club around £12.5m per annum more than their current agreement with Carlsberg.
But if Liverpool are to close the gap to the rest of Europe's elite, then a new stadium and Champions League football are simply essential.
Without those two critical factors, and with the emergence of new forces such as Tottenham Hotspur and Manchester City – who are listed in 15th and 19th place respectively in the Football Money League, and boast ambitious, benevolent owners – English football's most successful club is at risk of being left trailing.