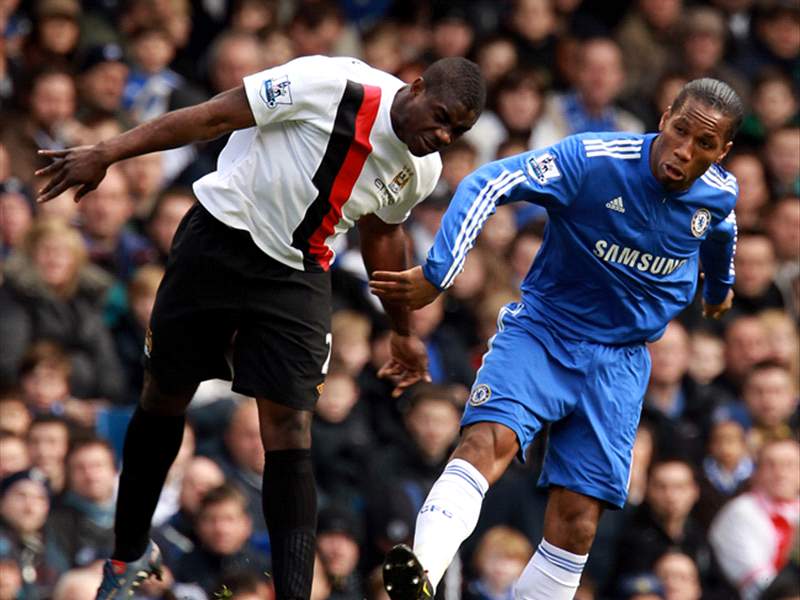 CHELSEA
Henrique Hilario
-
4.5
- Should certainly have done better for Tevez's rather tepid first goal, and may also face questions about the ease with which Bellamy beat him for the second.
Florent Malouda
-
6
- Defensively was questionable at times as Johnson, Richards and later Wright-Phillips caused him problems. Offered decent attacking threat going forward but was far from spectacular.
John Terry
-
5
- Was never going to be an afternoon to remember for the captain, and it wasn't a performance to remember either after being beaten worryingly easily by Tevez for his goal. Otherwise a few minor mistakes added weight to those worries about his recent form.
Ricardo Carvalho
-
6
- Generally dealt well with Tevez, keeping him mute for much of the match, but was turned inside out for the Argentine's goal. Sacrificed with 20 minutes to go as Chelsea went all-out for the win.
Branislav Ivanovic
-
6.5
- Had Bellamy in his pocket when competing for the ball, but struggled a bit with the Welshman's incisive runs and was nowhere to be seen for his first goal. A robust performance from the Serbian.
John Obi Mikel
-
4
- Occupied midfield well for much of the match, but his poor header directly led to Tevez's first-half equaliser and then he was beaten too easily by Bellamy for City's second. Ancelotti, understandably, withdrew him on the hour.
Frank Lampard
-
7
- Typically precise finish gave his side the lead after Cole's insightful through-ball. Passed the ball around well and did good defensive work in the first-half, but struggled to really control the game as it wore on. Late penalty conversion meant little.

Michael Ballack
-
4
- Cut a frustrated figure throughout, with a couple of handballs and niggly fouls underlining his difficulty in really making an impact. Did a lot of good defensive running — particularly after Mikel's substitution — but sending off was stupid and unprofessional.
Joe Cole
-
7
- Showed glimpses of real quality as he found his feet in the game. His past for Lampard's opening goal was a fine example of his vision and technique. Unlucky to be withdrawn early, as up to that point he had been one of the home side's better players.
Nicolas Anelka
-
6.5
- Saw a lot of the ball, particularly in the first half, but couldn't quite find that crucial final touch, whether it be a pass or cross.
Didier Drogba
-
6
- Enjoyed another good tussle after the midweek battle with Lucio, and he struggled once again to get the upper hand against Lescott. Had a number of half-chances to get on the scoresheet, but unusually failed to take advantage.
Substitutes
Juliano Belletti
-
3
- Whirlwind appearance. Replaced Mikel as a defensive midfielder, then was moved to right-back as Ancelotti changed the system. While there he was caught out by Barry, and was sent-off as he hauled the Englishman down in the box. Stuff of nightmares.

Daniel Sturridge
-
5.5
- Failed to make the desired impact having been brought on with a fair chunk of the game to go.
Salomon Kalou
-
5.5
- Gamble from Ancelotti in putting a fourth striker on really did not pay off. Ivorian was anonymous after midweek display.

MANCHESTER CITY
Shay Given
-
7.5
- Was beaten by pure quality for Chelsea's goal. Made a number of smart saves and showed no hesitancy in throwing his body in to thwart any dangerous situations.

Wayne Bridge
-
7
- Understandably tentative start after the pre-match non-handshake. To his credit he hardly put a foot wrong throughout, despite the boos from sections of the home crowd. In the circumstances, an impressive performance.
Joleon Lescott
-
7.5
- Evidently watched videos of Lucio's masterclass in dealing with Drogba in midweek, and took some of the tips he learned to deal admirably with the Ivorian. Had a few dodgy moments but that can be forgiven.
Vincent Kompany
-
6.5
- Fingers were pointed at the Belgian for Lampard's goal, but he shook that set-back off to help his backline keep Chelsea at bay.

Micah Richards
-
5
- Was very poor in the first-half, with Drogba, Malouda and Anelka causing him huge problems at different times. Caused some problems of his own going forward, but was something of a liability for his side.
Pablo Zabaleta
-
8
- Must have covered huge amounts of ground over the course of the match. Seemed to be everywhere, clearing up after his team-mates and putting out fires before Chelsea had the chance to light them.

Nigel de Jong
-
7
- Was a great sidekick to Zabaleta, screening the defence for his side and frustrating the opposition in attack.
Gareth Barry
-
7
- Was asked to be the main creative force of his side, and struggled with that for long parts of the game. But he was involved in the decisive moment of the game, as he drew a foul from Belletti that won his side a penalty that Tevez duly converted.
Adam Johnson
-
6.5
- Didn't see enough of the ball to really make a huge impact on the match. When he did get the ball he did show some quality, however, especially cutting in from the right flank. Didn't disgrace himself in front of Fabio Capello.
Craig Bellamy
-
8
- Was kept very quiet by Ivanovic for much of the match, but took advantage of his one half-chance to make an impact to score his side's second goal past the hapless Hilario. Got his second as he tapped home from Wright-Phillip's cross.
Carlos Tevez
-
8
- Literally nothing he tried came off in the first half, until he took advantage of errors from Mikel, Terry and Hilario to score a fantastic individual goal. Added to that with a well-taken second-half penalty, his fourth against the Blues this season.
Substitutes
Shaun Wright-Phillips
-
7
- Really turned the screw against Malouda, his pace and trickery caused real problems and his assist for Bellamy's second was the least he deserved.

Roque Santa Cruz
-
6
- Perhaps an odd decision from Mancini to bring the big striker on when the game looked all-but won. Santa Cruz's presence on the pitch coincided with City losing possession too easily.
Sylvinho
-
n/a
- Added late on to give Tevez his deserved ovation.