---

COMMENT
---
Two Argentine Primera Division titles. An Italian treble. A European and world champion at club level, and a veteran of one World Cup. No less than 254 professional goals and almost 600 appearances. And almost never the recognition his talent deserved, save for the clubs that saw him shine up close and adopted him, invariably, as one of their own.
Diego Milito bows out of football as one of the greatest strikers of his generation this Saturday against Temperley, after a career full of glory and joy sadly overlooked by the vast bulk of the mass media and those entrusted with picking out and honouring the supposed stars of the game.
The Principe's 17th and final season ends just where it began, in front of the chaos and unbridled passion of the Racing Club crowd. The Cilindro will pay homage one more time to the man who came back in 2014 with the club fighting relegation, and who in just six months was celebrating in front of Buenos Aires' iconic Obelisk monument as La Academia picked up their first title in 13 long years.
One of Argentina's biggest clubs in terms of history and numbers of fans, Racing have nevertheless triumphed just twice in the last 50 years in the local league. The common denominator in both of those successes, in 2001 and two years ago, was Milito, the symbol of the diehard fan turned hero of the terraces. Inter fans too knew what it is like to wait for glory, until the Bernal native ended their own 45-year European Cup/Champions League drought with a brilliant double in the 2009-10 final to leave Bayern Munich dumbstruck.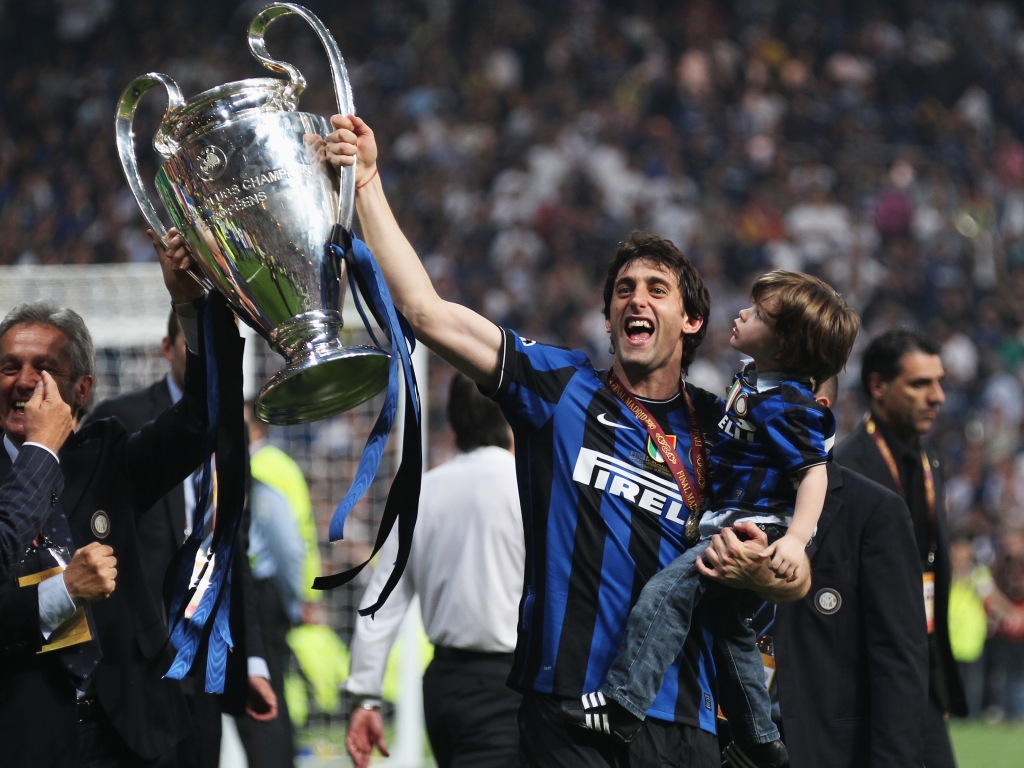 But that year the Argentine's heroics did not even merit a place in the Ballon d'Or shortlist, despite Inter's historic treble fuelled by his goals. So why exactly, as this elegant fighter plans his final flourish on the pitch, is Milito not remembered as one of the greats of his generation?
Perhaps it has something to do with his rather slow rise in the sport. Milito was a typical late-bloomer, easily forgotten in an age where the players that make the headlines burst onto the scene at an age when their peers are still tackling the last years of high school. Not Milito. He scored just once in his first 27 games for Racing, after debuting in a disastrous 1999 for the club which ended in bankruptcy and a winding-up order.
The story goes that during the 1990s, the youngsters in Racing used to be woken every morning by a cockerel. One day the kids overslept, and were puzzled until they came down to lunch. The cockerel had been killed and prepared for the table as the cupboards in the pension were completely bare. Despite those hardships, which included cold showers - the team were forced to play a friendly in Chile to pay for a new water heater - and little chance of receiving wages, a Milito-led under-21s squad took their first title that same year as he made his first team bow.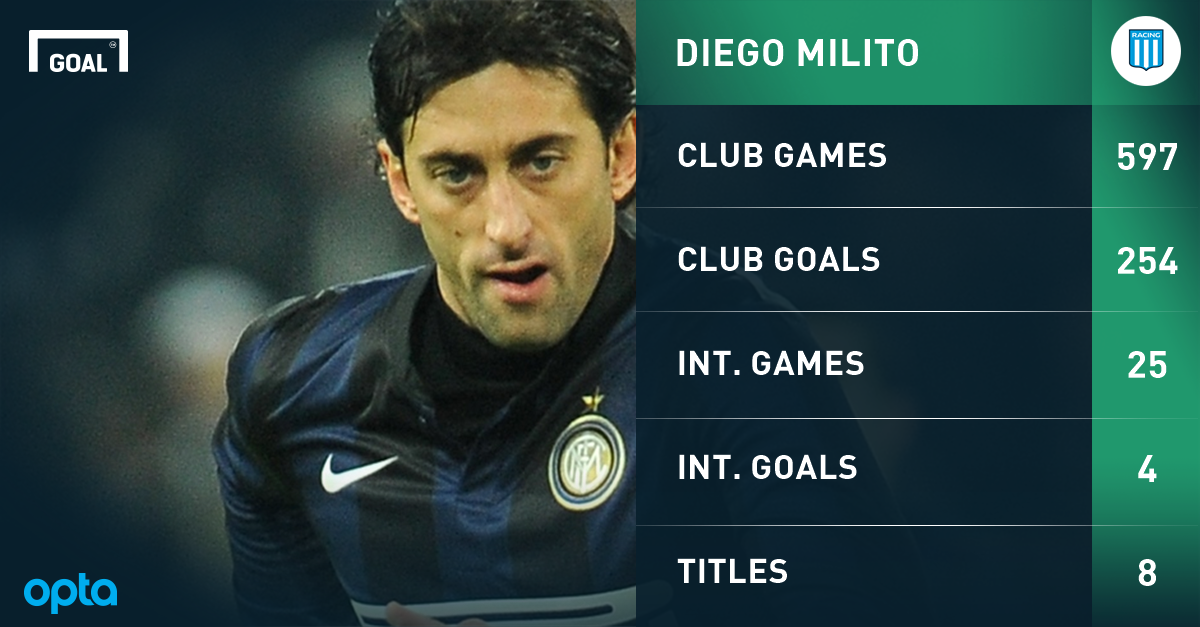 When La Academia won the Apertura just two years later, the 22-year-old Milito was still a useful member of the squad rather than its goalscoring lynchpin. His first move abroad, to Genoa, came at the ripe age of 24, and an impressive goal record was overshadowed by a betting scandal that sent the club down to Serie C. It was not until Zaragoza came knocking in 2006, and most notably his incredible four-goal haul to destroy Real Madrid in the Copa del Rey, that the world was finally introduced to Diego Alberto Milito.
The statistics of almost any player in modern football look modest in comparison to the Harlem Globetrotter numbers the likes of Cristiano Ronaldo and Lionel Messi return. But despite injury problems that robbed him of completing three out of five seasons with Inter Milito, he still posted 20+ goals in five league campaigns across Serie A and La Liga, marking him out as a striker of rare quality.
He may not have been the quickest player on the planet, nor the most technically gifted. But he was blessed with that rarest of skills in modern football, the mental sharpness to be in the right place at the right time, as well as a finishing technique that in the current game is only matched by a handful of the striking elite. Perhaps only Robert Lewandowski or Luis Suarez right now could compare with Milito at his best when it comes to converting in the penalty area.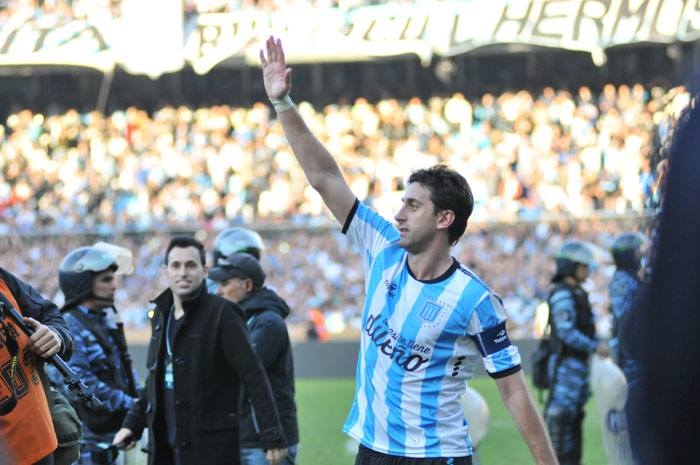 "Milito is fundamental," Javier Zanetti said of his compatriot as Inter broke all records in 2009-10. "He achieved so much it felt like he had been here forever, but it was his first year," added Esteban Cambiasso. Even Zlatan Ibrahimovic, whom he replaced at San Siro, saluted his "formidable record in front of goal" after narrowly beating him out to the 2008-9 Capocannoniere award. Racing fans, meanwhile, have no doubt who is the greatest, chanting "There's only one Milito" in mocking reference to brother Gabi, a legend himself at rivals Independiente.
The end is now on the horizon for Diego at 36, with only one decent knee remaining but still one of the most proficient players around in the Primera Division. Like Juan Roman Riquelme at Boca, fans pleaded for him to stay on, but the striker wants to leave at the height of his powers, before time and physical wear-and-tear can diminish his image on the field. A street leading to the Cilindro bearing his name now beckons, and it will surely be only a matter of time before we see him back in Avellaneda leading from the bench.
At this point it may be too late for Diego Milito to claim his rightful place among the best strikers of the last decade. But ask anyone in Racing, or Inter, Genoa and Zaragoza for that matter, and there will be no doubt. The forward is not just a legend at one club, but in every stadium he has graced with his elegant, deadly finishing; his popularity a testament to a man who is not just an example on the pitch but also in the way he has conducted himself across his professional career.