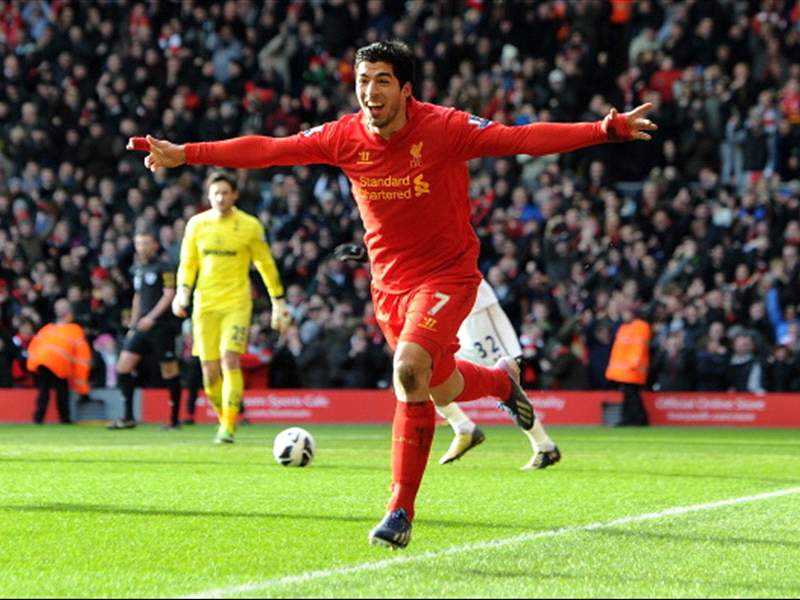 COMMENT
By
David Lynch
When
Luis Suarez
put
Liverpool
ahead 21 minutes into his side's clash with
Tottenham
on Sunday, it seemed clear where the narrative would travel.
The game had been billed as a battle between Suarez and his Spurs counterpart Gareth Bale, an all-out duel for three points and the votes required to earn player of the year recognition at the end of the season.
But what followed was so much more than that.
TOP OF THE CLASS

LUIS SUAREZ |

LIVERPOOL





Took the opening goal with typical ruthlessness and ran himself into the ground for the cause. Struggled to get on the ball at times, but was as brilliant with it as ever.
JAN VERTONGHEN |

TOTTENHAM





A centre-back's job does not generally involve scoring goals but the Belgian grabbed two in brilliant fashion whilst keeping up his duties at the back in some style. A fantastic performance.
Make no mistake, these two wonderful attacking talents both stamped their own mark on the game, but they contributed to an incredible spectacle, rather than dominating it.

Anfield

witnessed what has to be one of the games of the season, with two teams providing displays of commitment and, most importantly, quality.
It was a game that signalled where both teams are heading. Despite being brought back down to Earth with a bit of a bump, Spurs will not feel that their incredible run of form is at an end. For the home side, it was another corner turned. The match was a brilliant spectacle between two sides full of confidence.
The pre-match signs pointed to an enthralling encounter, with a pair of highly-rated young managers taking decidedly different approaches which ensured there would be no tactical stalemate. Brendan Rodgers risked omitting both Joe Allen and Jordan Henderson from his team following Daniel Sturridge's return from injury, while the hosts fielded a front four with threatening implications. Meanwhile, Andre Villas-Boas,

shorn

of the services of the injured Aaron Lennon, bolstered his engine room, with Jake

Livermore

coming in alongside Scott Parker in front of the back four.
The game played out as expected given the line-ups, with Liverpool taking the lead courtesy of a lightning-quick counterattack following spells of Spurs dominance built on their numerical superiority in the middle. The two disparate approaches accounted for what was a breathless first half, and it justly came to a close with the score at 1-1 following Jan

Vertonghen

's headed goal.
The Belgian was, of course, not done. Moments into the second period, he gatecrashed the Bale & Suarez show yet again to produce a left-footed finish befitting Robin van Persie to put the visitors ahead and underline the quality of his display at both ends of the pitch.
Vertonghen

also had a stellar supporting cast around him, with the balletic dribbling of

Mousa

Dembele

and eye-of-a-needle passing range of Philippe

Coutinho

wowing the crowd in equal measure. And those in attendance reacted accordingly, providing a fitting atmosphere for such an enthralling contest.
Of course, after a blistering opening hour, it was hard to believe that the fixture could continue in such action-packed fashion. But that is where Rodgers stepped in, ensuring that the tale would take yet another significant twist and that his side would be happiest at the final whistle.
Admittedly, the loss of

Coutinho

's scheming around the box would have been keenly felt by purists, but the introduction of Allen in his place turned the game in the Reds' favour. It goes to show what can be done when a manager can rely on his substitutes.
Before the January transfer window Liverpool would have lost this match, but now Rodgers can call upon different players with different capabilities, and can conjure up a change of tact where necessary.
Even the most ardent Liverpool supporters would find it hard to deny that Kyle Walker's

backpass

and Hugo

Llloris

' needless walkabout were anything but a fortunate break. However, as Villas-Boas later admitted, the hosts' pressing provided the platform for those mistakes.
That chaotic theme continued with Benoit Assou-Ekotto's charge into Suarez following an inexplicable Jermain Defoe pass into his own box – the striker seemingly tempted to give an incredible game the finish it deserved. Despite that, both teams did not get the points haul their performances arguably merited, with Premier League rules unfairly dictating that only one side can take three points.
Regardless,

Tottenham

must not allow these fine margins to define them, this was a performance which proved their credentials but did not yield the right result. And as for Liverpool, their encouraging growth into a team which promises a Champions League return continues unabated.
The cut-throat nature of the Premier League rarely allows for such all-encompassing positivity given that one team generally ends up empty handed. On Sunday, Liverpool and

Tottenham

earned such deference.
Follow David Lynch on