COMMENT

By Daniel Edwards | South American Football Editor
For a man who has become almost as well known in retirement for his polemic speech as he was on the field for his outrageous talent,
Diego Maradona
's silence in these last few days has taken on a touching poignancy.
The passing of the Argentine legend's mother on Saturday, days after being taken into hospital for kidney failure, has shaken the bombastic Al Wasl trainer, unsurprisingly so given the unbreakable bond that existed between the two.
Because the truth is, no other individual or event has had a greater effect than Dalma Salvadora Franco, better known as 'Dona Tota', on the career and life of her son.
This silence is in marked contrast to the reaction of the nation's football community to the news. Some of the biggest names from across Argentina paid their respects at the Maradona matriarch's wake, from tennis star Juan Martin del Potro to Boca Juniors legend Martin Palermo, all the way to actor and star of Oscar-winning film
El Secreto de sus Ojos
Ricardo Darin.
In the Bombonera, meanwhile, Dona Tota was honoured with a minute's silence prior to Boca's clash with fierce rivals Racing Club. This writer happened to be in the stadium and, in a country with a positively dreadful record of observing such memorials, the near silence that befell the raucous stadium was a clearer sign than most of the respect fans of all clubs hold for the Maradona family.
This reverence is a fitting tribute for the woman who more than anybody else fought to keep her son on the right path, even though at times it seemed an impossible task.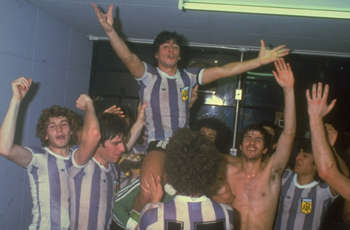 The Young Diego | Dona Tota wanted the 1979 World Youth Cup winner to be an accountant
It is difficult to overstate the impact of 'El Diego's' mother on making him the man he is today, although in the past 35 years Maradona himself has often tried to explain the sacrifices and efforts made by his mother to protect him and his five siblings in the peripheral Buenos Aires shanty town of Villa Fiorito.
"At 13-years-old I realised that my mother had never suffered a stomach ache," Diego would begin, recalling one of his favoured anecdotes about his mother's protective instincts.
"She never had a stomach ache, she just wanted us to eat. Every time the food would come out, she would say 'my stomach hurts'. What a lie! It was because there was not enough to go round. That is why I love my old lady so much."
It became local folklore that Dona Tota never wanted her son to go into football, preferring instead that he become an accountant. Despite this, however, Diego recounted in his own autobiography how he was never deprived of the game he loved almost before he could walk.
"Sometimes at home I would not be allowed to go out to play football and I would cry like crazy, but five minutes before the game La Tota would let me go," was another of Maradona's stories when asked about his tough but loving upbringing.
This unconditional love, and dare we say indulgence, shown to 'El Pelusa' in his formative years would contrast sharply with the legions of sycophants and hangers-on who would enter Diego's inner circle when he became a star, milking the player for all he was worth in Catalunya and Naples before disappearing when goings got tough.
"When I was baptised on January 5 1961, La Tota asked only that I grow up healthy and a good person"






- Another of Diego's favourite anecdotes

One cannot help thinking that it was this juxtaposition between the love of his family, followed by constant betrayal, from those outside that helped form the explosive and, at times, almost schizophrenic Maradona we see today.
The Diego of 2011 is brusque and often witheringly insulting to those he does not know or who he believes have wronged him, but he remains almost endearingly loyal to the men he sees as on his side. The iron bonds forged between himself and players like Tevez, Messi and, of course, 'El Titan' Palermo during the World Cup were further testimony that his faith in those closest to him, albeit a faith subject to his whims and temper, is just as intense as his ability to hold a grudge.
Because just as Carlos Tevez carries the marks and scars - both figuratively and literally - of his childhood in the concrete jungle of Fuerte Apache, Maradona is still in many ways the stocky kid who used to kick a rolled-up ball of paper or a piece of fruit up and down the dirt tracks of Fiorito, on his way to fulfil an errand for the mother who would go hungry to put food on the table.
It is an attitude often misunderstood by those who did not grow up with the same daily privations and dangers, who demonise the same single-minded, uncompromising approach to life which helps such stars leave an environment which would devour a weaker individual.
Because love him or loathe him, Diego dragged himself up from Fiorito to become a world star and one of its most recognisable individuals. No-one did more to mould him and send him on the path to greatness than Dona Tota, and her absence will leave an indelible mark on the man who, first and foremost, has never shown less than 100 per cent loyalty to those who made him who he is.
Follow Daniel Edwards on