By
Matt Monaghan
| Manchester United correspondent

Manchester United
have the successor to Ole Gunnar Solskjaer on their hands with
Javier Hernandez
, according to Guadalajara-based journalist Tom Marshall.
The 21-year-old Chivas striker has agreed a reported £8 million deal to join the reigning English Premier League champions in July. As the emerging star in the Mexico national team, 'Chicharito' is expected to make an impact when he finally makes the move.
Marshall, 27, is the senior staff reporter for the English language
Guadalajara Reporter
newspaper. He covers the Chivas, Atlas and Estudiantes football teams in the city and is currently writing a book about the history of the game in the country.
Speaking to
Goal.com UK
, Marshall said he had high hopes for United's first Mexican signing...
Goal.com UK: What kind of striker is Javier Hernandez?
Tom Marshall:
"He's quick, good with both feet and knows where the back of the net is. Chicharito isn't a Lionel Messi, Wayne Rooney or Cristiano Ronaldo type player who has the ability to single-handedly win you games, but if the team provides him with chances, he usually takes them."
Goal.com UK:
Does he resemble any Manchester United stars from the past in his style?

"His style reminds me a lot of Ole Gunnar Solskjaer. He's a natural finisher who works hard for the team, is extremely popular, has a baby face and has the knack of scoring on big occasions - he scored on his debut for Chivas in 2006 and this year in his national team debut.
"He's also netted a couple of last minute winners for Chivas this season."
What kind of impact can you see him having in England? Is he a work in progress or ready right away?
"He'll be the fourth choice striker used in rotation like in 1999, in my opinion. Again, the Solskjaer analogy fits. He'll play in the Carling Cup, games against weaker Premier League teams and as a substitute to come on and snatch goals in bigger games, at least during the first year.
"Chicharito will be 22 when he makes his United debut and so while adapting to the English game will take time, it's not like he's a 17 or 18-year-old kid that needs baby-feeding. He's an international striker with a country behind him that fully expect him to get the national team goals in South Africa.
"He's swiftly becoming the 'Mexican Rooney' in terms of the media here pinning their hopes for the World Cup on one man."
Carlos Vela and Giovani dos Santos have struggled in the Premier League, would Hernandez be a different case?

"I think he'll succeed and that Chicharito has signed for the right club. According to the local Guadalajara press, his family are going to be moving to Manchester too.
"That will include his parents, girlfriend and even, possibly, his grandparents. Like many Mexicans, Chicharito is extremely family-orientated and having them around should make things easier for him.
"Playing wise, Chicharito at 5ft 9in is deceptively strong and is very good with his head. Although many Mexican players go to ground with the faintest of contact, Chicharito generally tries to stay on his feet and obviously fans in England warm to that.
"The difference in the style of play between Mexico and England is huge and could be problematic for Chicharito. The pace of the game in Mexico is very slow and, apart from in the big derby games, it lacks urgency. Chicharito will need to adapt to the intensity of England."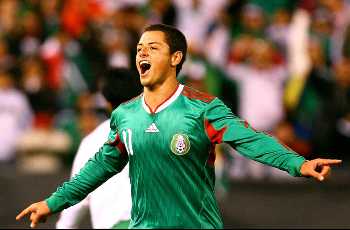 Mexican Rooney | National hopes pinned on Chicharito
What kind of character does Hernandez possess? Do you see him fitting in and adapting to English life?
"Hernandez is very laid back, approachable and dedicated. He's said in recent days that it was his dream since being very young to go to Europe to play.
"He's a very humble person with a real enthusiasm for the game. He doesn't have a blot on his record in terms of getting caught out late drunk at clubs or anything like that. He's a dedicated professional.
"He still lives with his parents in Guadalajara and is doing a business administration degree at a private university in the city.
"He is, however, what Mexicans call "gente nice," which refers to the fact he comes from a family with money, grew up in a nice part of town and speaks English. His father and grandfather were both parts of Mexico squads that went to the World Cup.
"I think that is important because he has always been surrounded by the media and may because of that be better able to cope with being a United player."
Hernandez has scored goals galore this season, do United have a new Hugo Sanchez on their hands?
"If he continues in the same vein of form there's no reason why not, although whether he can first get himself into Ferguson's first choice eleven will be a huge factor.
"Personality wise the two are very different. Sanchez did his famous somersault after scoring goals and is known for maintaining spats in the media, whereas Hernandez is quietly spoken and less of a showman."

What has the reaction been like in Guadalajara to the news?

"My phone didn't stop last Thursday. Everyone who knows me here knows I love football and that I'm from near Manchester so it was very exciting.
"Sports shows on television spent all weekend talking about Chicharito and Manchester United, who he will play alongside and whether Dimitar Berbatov might be pushed out.
"The media here really believe that in Chicharito they have a genuine world star in the making and that he's now been given a platform to prove it via signing for United. But, as a note of caution, the Mexican press is similar to the British press in its tendency to hype things."
How excited are the people about the upcoming friendly between Chivas and United?

"It's been described as the biggest event for Guadalajara for many years by one local newspaper. It'll be crazy, I'm already trying to find out how to get tickets.
"They could probably fill a stadium of 300,000 pretty easily. The new Chivas stadium has just over 45,000 so how to get tickets is the big question.
"English football is on cable here in Mexico and so the players are extremely well known. La Liga is on
Sky
, more expensive and with much less viewers, so Mexicans are generally more knowledgeable about the English game than any other European league."
What do you think are the ramifications for both clubs financially?
"Financially, the deal is too good to be true for both parties. Chivas owner Jorge Vergara is an extremely wealthy man and clearly knows what he is doing when it comes to running a business. United obviously also have a mountain of debt and by all accounts are trying to enter new markets.
"United's website now has a Spanish language section and by this one signing there's no telling how many Mexicans were converted overnight to be United fans. The Latino market in the United States means United commercially will gain from the deal."
Become a fan of Goal.com UK's Facebook fan page for all the latest news and insight into everything related to the beautiful game!