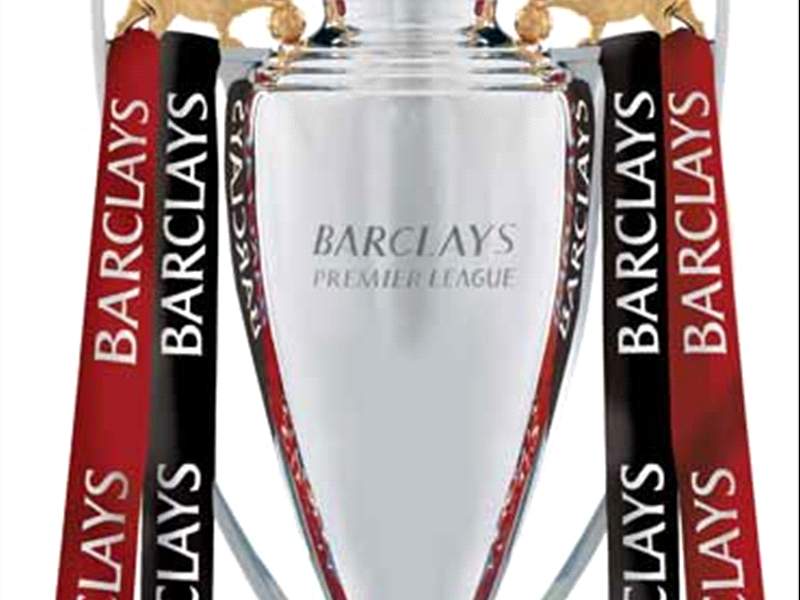 Odds Supplied by Titanbet
ENGLANDPremier League Title Odds: Chelsea 1.28 (7/25), Manchester United 6.50 (11/2), Arsenal 7 (6/1) RUN-INChelsea:
Bolton (Home), Tottenham (Away), Stoke (H), Liverpool (A), Wigan (H)
Manchester United:
Man City (A), Tottenham (H), Sunderland (A), Stoke (H)
Arsenal:
Tottenham (A), Wigan (A), Man City (H), Blackburn (A), Fulham (H)
After the doom and gloom of Chelsea's Champions League elimination at the hands of Jose Mourinho, the Blues are now on course for a domestic double. Not bad for Carlo Ancelotti's rookie season. Tottenham Hotspur must play all three title contenders and although the north London outfit generally fade in the closing stages of the season they will certainly play a pivotal role in the destiny of the title. United look spent and no team has won the league in a 38-game season after losing seven games, while Arsenal remain the dark horses.
VERDICT
It hasn't been a vintage season for the so called 'Big Four'. Chelsea should
just edge it having got their noses in front now. At
7 (6/1)
the Gunners are the best outside bet to win their first league title since 2004.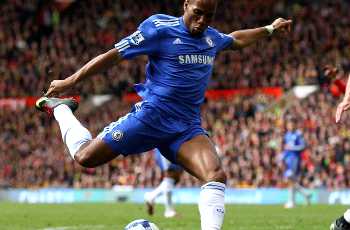 FRANCELigue 1 Title Odds: Marseille 1.53 (53/100), Bordeaux 3.60 (13/5), Lyon 11
(10/1), Auxerre 17.00 (16/1), Montpellier 41 (40/1), Lille 67 (66/1)
RUN-INMarseille:
Boulogne (A), Saint-Etienne (H), Auxerre (A), Stade Rennais (H),
Lille (A), Grenoble Foot 38 (H)
Auxerre:
Lorient (H), Toulouse (A), Marseille (H), Lyon (A), RC Lens (H),
Sochaux (A)
Lyon:
Bordeaux (A), Monaco (H), Montpellier (A), Auxerre (H), Valenciennes (A),
Le Mans UC 72 (H)
Montpellier:
Toulouse (H), Nancy (A), Lyon (H), Sochaux (A), Lorient (H), PSG
(A)
Bordeaux:
Lyon (H), Lorient (A), Toulouse (H), Nice (A), Sochaux (H), RC Lens
(A)
Lille:
Monaco (H), Le Mans UC 72 (A), Nancy (H), Toulouse (A), Marseille (H),
Lorient (A)
English fans could be forgiven for gazing jealously across the channel, where
Ligue 1 is in rude health. The French top flight is enjoying a fabulous title
scrap with the top six only separated by seven points. Marseille are on a roll
having destroyed Bordeaux in the League Cup final and with a handy run-in are slight favourites to grab their first title since 1992. Reigning champions
Bordeaux have games in hand while Auxerre and Champions League semi-finalists Lyon lead the chasing pack.
VERDICT
Marseille are the entertainers, scoring a mighty 58 goals compared to Auxerre's 32, and are unbeaten in the league since late January. The side who last turned Les Phoceens over was Montpellier, who are the rank outsiders to claim the title in their first season back in the top flight.
At 41 (40/1)
they are worth a punt.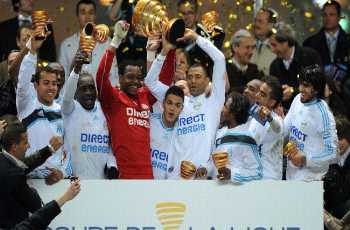 GERMANYBundesliga Title Odds: Bayern Munich 1.14 (7/50), Schalke 04 5.50 (9/2), Bayer Leverkusen 34 (33/1)
RUN-INBayern Munich:
Hannover 96 (H), Monchengladbach (A), VfL Bochum (H), Hertha (A)
Schalke 04:
Monchengladbach (H), Hertha (A), Werder Bremen (H), Mainz (A)
Bayer Leverkusen:
VfB Stuttgart (A), Hannover 96 (H), Hertha (H),
Monchengladbach (A)
A three-way scrap looks set to be whittled down to two between Bayern Munich and Schalke, with Bayer Leverkusen likely to retain their 'Neverkusen' title. Schalke coach Felix Magath blasted his team for being 'too soft' to win the title, but his side have four very winnable fixtures remaining. Only problem is Bayern Munich have a similar run-in, with only the trip to bitter foes Borussia
Moenchengladbach having the potential for an upset. Whether it's Louis Van Gaal or Magath who triumphs, it will be an unusual achievement as both coaches would have won the league title in successive seasons with different clubs.
VERDICT
Bayern have beaten Schalke twice in the space of a month and confidence is high after dumping Manchester United out of the Champions League. Still, wouldn't Felix Magath like to put one over his old club like he did last season with Wolfsburg? At
5.50 (9/2)
it's a hard prospect to pass up.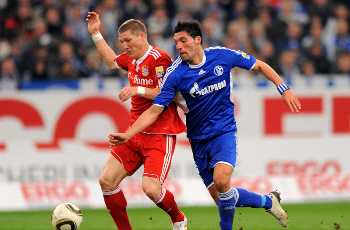 HOLLANDEredivisie Title Odds: Twente 1.34 (17/50), Ajax 2.90 (19/10)
RUN-INTwente:
Alkmaar (A), Feyenoord (H), NAC (A)
Ajax:
Willen II (A) Heracles Almelo (H), NEC (A)
Steve McClaren's Tukkers have been the most consistent side in the Eredivisie,
losing just once all season, and are the favourites to go one better than their
second place finish last season. Chasers Ajax, who inflicted that solitary 3-0
defeat in February, are breathing down their necks and smashed VVV Venlo 7-0 over the weekend. Twente, who are four points clear, host Feyenoord next weekend and could seal the title with a win on home turf if they beat reigning champions AZ Alkmaar on Tuesday night.

VERDICT
Having rebuilt his reputation in Holland, Steve McClaren will want to avoid any
accusations of bottling it as Twente close in on their first-ever league title.
A monumental week awaits with Ajax ready to pounce on any mistake as the
Amsterdam outfit look to steal their first title since 2004.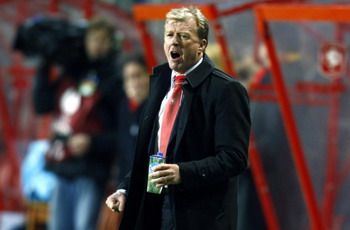 Titanbet are offering all new customers a 100% bonus up to €/£250 on their first deposit. Whatever you put in, Titanbet will match. It's easy!
Where do you think the league titles are going to end up? Share your opinions below
...
Tomorrow: Italy, Portugal, Spain & Turkey
Become a fan of Goal.com UK's Facebook fan page for all the latest news and insight into everything related to the beautiful game!