EXCLUSIVE
By
Wayne Veysey
| Chief correspondent
Liverpool
are considering a move for
Dinamo Kiev
forward
Artem Milevskiy
as manager
Roy Hodgson
looks to bolster his strikeforce.
The Ukrainian international, whose contract expires in August 2011 and will become a free agent next summer, is seeking a move abroad after eight years at Kiev and is a target for Hodgson should funds become available at Anfield following Javier Mascherano's proposed £25 million switch to Inter Milan.
Hodgson has stated his desire to add attacking reinforcements to his squad as his current striking options are limited to Fernando Torres, David N'Gog and Dirk Kuyt.
ARTEM MILEVSKIY | Snapshot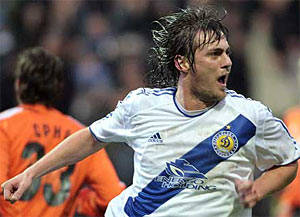 BASICS

Age
Position
Club
International

SEASON STATS

Appearances (sub)
Goals
Assists
Yellow Cards
Red Cards

IN FIVE WORDS






25
Striker
D Kiev
Ukraine




27 (1)
17
8
6
0

Strong, intelligent, versatile front man

He has most recently been linked with West Ham striker Carlton Cole and PSV Eindhoven forward Ola Toivonen, but now the highly rated Milevskiy has joined that list of targets.
The 25-year-old would not come cheap and his club are demanding a £13m transfer fee with little room for negotiation. With Liverpool's ownership uncertain and debts of £237m with the Royal Bank of Scotland, the Reds would have to sell before they could afford to make a bid for Milevskiy.
Liverpool are just one of a number of Premier League clubs tracking Milevskiy, who has been heavily linked with Russian side Lokomotiv Moscow during the summer.
"Milevskiy is a player who could play for Liverpool, Manchester United or Chelsea," his agent Dennis Lachter told
Goal.com
UK
. "He is a top level player and we have had some serious interest from one major Premier League club.
"At the moment English teams are waiting until they have more money before they buy players.
"But when the market starts to move, managers will have more money to spend and then something might happen."
Milevskiy is considered one of the most talented players in Eastern Europe, a technically skilful forward who prefers to play off a targetman rather than as a main striker, despite his 6ft 3in frame.
Lachter has urged suitors to make their move for the Belarusian-born forward sooner rather than later and has warned they face a tough task in convincing Dinamo Kiev to sell their star man.
He added: "It can take many days and weeks to sign a player from Ukrainian and Russian clubs – it is not a transfer you can do in one day.
"It is not a great joy to negotiate with these clubs – I can tell you this from many years of experience.
"At the moment Milevskiy will continue to play for Dinamo Kiev – but in football everything can change in an hour."