EXCLUSIVE
By
Andy Brassell
Former
England
defender Graeme Le Saux has praised
Ashley Cole
, saying the national team left-back's sparkling form is a big boost to England's
World Cup
hopes.
Goal.com UK
catches a word with the Premier League title winner (with Blackburn Rovers, in 1995) at the 'Shoot-Out In The Sky' - the launch of TitanBet.com's $100m Challenge.
Le Saux is on a sofa, still in his kit, having spent most of the morning atop an office block in west London, trying to beat England's legendary goalkeeper, Peter Shilton, on an adjacent block 82 feet away. Having scored once and hit the post too, it turns out he's a decent shot for a defender, just like the Blues' current left-back...
Goal.com UK : As a fellow left-back, what do you make of Ashley Cole's form this season? Graeme Le Saux :
I think he's really grown as a player, particularly this year. To see his work rate, the amount of the pitch he covers, his tenacity and his quality is great.
He becomes a hugely valuable player for the national team, when matches are more cagey and there are less chances, because he has the freedom to get forward, to make an extra man in attack, to create space and to distract people with a run. You hope he continues to want to improve - he's very ambitious, so I'm sure that will be the case. As for him being one of the best full-backs in the world, what a stage for him to prove that in this summer's tournament.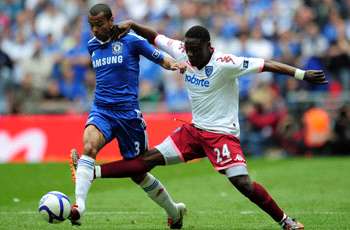 Cole standard | Ashley among world's best
There have been rumours of interest from Real Madrid. Could you see him moving abroad to develop his game further?
No, I think he's very settled at Chelsea. The club have provided him with everything he wants, including the opportunity to win things, and he's part of a settled squad. I'd be surprised if he didn't stay at the club for a long, long time.
Who are your favourites for the World Cup and how do you see England getting on?
Spain is a team that I'm very much looking forward to seeing. Having won the Euros and having a very closely-knit squad, they are perhaps the team to beat. But you have all the usual suspects - Brazil, Germany, Italy and England as well, who form the group of possibles. I'm looking forward to the tournament starting, to get an idea of which team has really come into form at the right time, and who has the spirit to do well. Hopefully it's England.
You now work as an international ambassador for Chelsea. What's your take on Carlo Ancelotti's impact since he arrived at the club?

He's reinvigorated them, and brought some stability in. I think he's of a similar mould to Jose Mourinho and Guus Hiddink. He's brought in an atmosphere of calm and positivity. If you go to the training ground now, it's very relaxed. There's a good spirit there, and players seem to enjoy themselves - but they don't overstep the mark and stay very focused on their job, so he's done very well in that respect. He's very quickly established a team and a philosophy that's creative and has given players freedom to express themselves on the pitch.
Do you think he's made Chelsea more likeable?
I think ultimately people will like and respect you as a team if you play entertaining football. The neutral will look at Chelsea and say "wow, they're playing amazing football and entertaining me, so they're not that bad." Any successful team, by their very nature, encourages people to dislike them, and Chelsea were seen as spoilt when Roman Abramovich came on the scene, and that's sort of understandable.
But when you actually look at the club as a whole and see what they've done, with the youth team, with the training facilities, with the community - things which don't get anywhere the coverage that they might do - you see that there's a lot more going on behind the scenes than just buying players.
Finally, you've been doing some work on UEFA coaching programmes. Do you see management as the next step?
Not necessarily. I've got a young family, and enjoy spending time with them.
Coaching's such an all-consuming challenge, and I'm reluctant to give up the freedom that retiring from playing has given me.
No trip to South Africa is complete without a visit to its most beautiful and sunniest city. Durban offers much more than sandy beaches, safaris, casinos and the World Cup, for information on what to do and see, please click here.

Become a fan of Goal.com UK's Facebook fan page for all the latest news and insight into everything related to the beautiful game!