This is a two-part interview. The second part will be published at 11:00 BST (12:00 CET) on Sunday April 18.
Think of a job advertisement for referees:
"The applicant will be prepared for the most thankless task in world football. One needs to have a skin so thick that even a rhino would look on in envy. The pay is chicken feed compared to that of players, coaches and managers.
"But there are perks. The job comes with high octane verbal abuse from at least twenty two players for over ninety minutes. Expect moments of high drama when stars throw tantrums at your coloured cards. (They don't like the red one in particular.)
"Successful applicants can also look forward to heaps of personal abuse aimed at you and members of your family from tens of thousands of fa ns. Going out in public after a big game is not to be advised.
"Added extras include insults levelled against your competence and integrity as a professional from coaches and club officials, and of course utter annihilation by the media all year round. Please apply with full resume and references..."
It makes you wonder why anyone would want to become a referee. But that most difficult and thankless of jobs is also one of the most important within the sport. Therein lies the attraction that calls a unique kind of person to the job.
One such man who doesn't regret for one moment his decision to become a match official is Spain's Alberto Undiano Mallenco, who shared with Goal.com his thoughts on the World Cup, the life of a referee, video evidence, and much more...
Not A Late Bloomer
Born in Pamplona some 36 years ago, Alberto played football until he was thirteen before deciding at the ripe old age of fourteen to become a referee.
"A friend of mine mentioned it to me once. At first I told him, 'You're crazy! What, me, being a referee?' But finally I decided to try it for one match, and I really enjoyed it and have carried on ever since," said Alberto to Goal.com's Ashish Sharma.
It seems incredible to think that a refereeing career could begin at such a young age, but Mallenco dismisses the suggestion that he was an exception and born to be a referee.
"No not at all," he said. "It's really not that unusual for referees to start young. Of course every referee's situation is different."
However there were some problems with familty regarding his choice of career.
"I recall my father was really unhappy at first when I told him I wanted to be a referee. But what helped was that my friends were great. They all understood it because they knew that I was really being a referee."
Mallenco has come a long way in twenty seasons. From modest beginnings he will climb to the pinnacle of his career this summer when he goes to South Africa for the World Cup. He will be Spain's only representative.
"When I was told I was selected I just felt fantastic," he confides. "When you start to referee you don't really imagine that one day you will officiate in a World Cup. It was a huge and a very nice surprise, and I think its going to be a fantastic World cup and one that I hope I can really enjoy."
South Africa is already familiar to the 36-year-old. He was in the country for the dress rehearsal of the Confederations Cup and was impressed by the enthusiasm and the support that exists for Africa's first ever World Cup.
He continued, "All of the country and all of Africa is involved with these finals. We were there for one week as a team of referees, and we all felt that the atmosphere and the feeling in the stadium was so friendly and social."
The Road To Africa
FIFA's selection process began some two years ago with a shortlist of 56 officials. Their work was monitored and the group whittled down to a final list of thirty referees, of which Mallenco is just one. Alberto says that, while the whole ordeal was difficult, the real work begins now.
"We have to be in very good condition for South Africa," he went on. "It's difficult for us to work together because we live all over the world. But we have a platform through the intranet and we can train through this system with FIFA's instructors.
"We have a lot to do before the World Cup begins. We have to prepare in all technical areas, we need to be ready psychologically, and also of course our physical conditioning cannot be forgotten. This is an ongoing process right through till June.
"We have a big FIFA seminar in May and we will arrive in South Africa some two weeks before the tournament kicks off. So, I think we will be very prepared for these finals."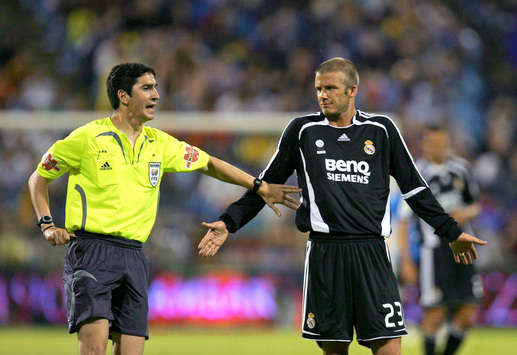 Consistency
Alberto also says that there is strong interaction between referees, FIFA and teams that play in tournaments. He suggests that one of the highlights for the finals this year will be to ensure that there is more consistency in the refereeing.
He said, "This is the most important for FIFA to make sure that all the referees whistle in the same way. This is the hope also of all the players, managers, fans and the media as well."
"In the last few tournaments FIFA have spoken with all the players, and coaches and asked them what style of refereeing they wanted, and which topics were uppermost in their minds. For example in the last Under-17 and Under-20 tournaments and also in the last World Cup in Germany, all the teams received information about the officials. The players went out knowing very well who their referee was.

But really the key to the way a referee runs a game is not down to individual personality, it's down to the guidelines and the rules that are laid down by FIFA."
Consistency is certainly the key word. It's what everyone is looking for both within and outside of the game. Yet how feasible is it to expect high level consistency from a World Cup containing referees from some highly intense and competitive leagues alongside others from league less urgent?
"FIFA has worked with this group of referees now for at least two years. The level is very consistent," argued Alberto. "The key is not the intensity of a match but the guidelines of the game. All the referees know that and I am sure in this World Cup you won't see any difference between one referee and another wherever they come from, because we are all preparing in exactly the same way."
A Look At The Evidence
Yet f or all the consistency on the pitch, there remain matters to be settled off it. This season more than most the subject of video technology has come to the forefront, with many calling for its introduction. But FIFA has held firm and in a recent Executive meeting confirmed that video technology would not be used in the World Cup.
It's a blow for many outside the game's corridors of power, who look at the examples set in sports such as cricket and tennis where technology has improved the decision-making process. However, far from agreeing that this would be an aid to the referee, Alberto has a traditionalist's view on the matter.
"Over the last one hundred years football has been the most important sport in 95% of countries in the world. It hasn't changed in that time so I wonder why we have to alter it now? I don't know if in the future there may be a change but at the moment we just get on with it," he said.
"Yes, sure, sometimes I thin k it would be good idea if the referee had the assistance of a camera. But as I said before I don't know if its a good idea for football. Can you imagine what fans would think if they had to keep waiting each time for decisions to be made? For me football is all about speed and continuous play so if you had to keep stopping, I am not sure how that would be."
From speaking to Mallenco it became clear that even referees are seduced by the imperfect charm of the game. Alberto continued, "Football is like life and life is not perfect. Players make mistakes, as do coaches, and so do referees."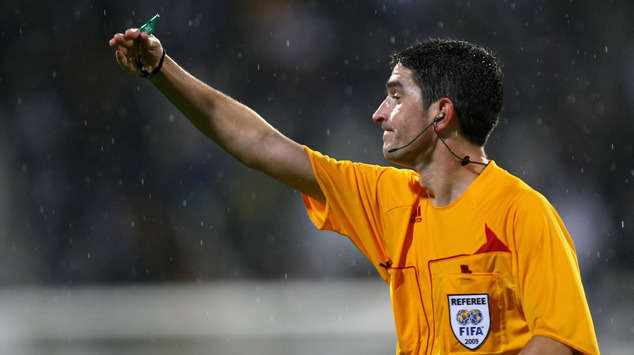 Alberto offers another argument when I suggest that technology could only be used for big tournaments such as the World Cup. "I am not sure about that," he says. "Look, if we talk about consistency then technology is just not possible for all matches, for all leagues and for all clubs. This is very expensive. It's not important what the level of the game is, rather the essential thing is that the laws of the game should always be the same. Can you imagine how it would be if you had football played in two different levels? One with such technology one without?"
This is a two-part interview. The second part will be published at 10:00 BST (11:00 CET) on Sunday April 18.


Become a fan of Goal.com UK's Facebook fan page for all the latest news and insight into everything related to the beautiful game!