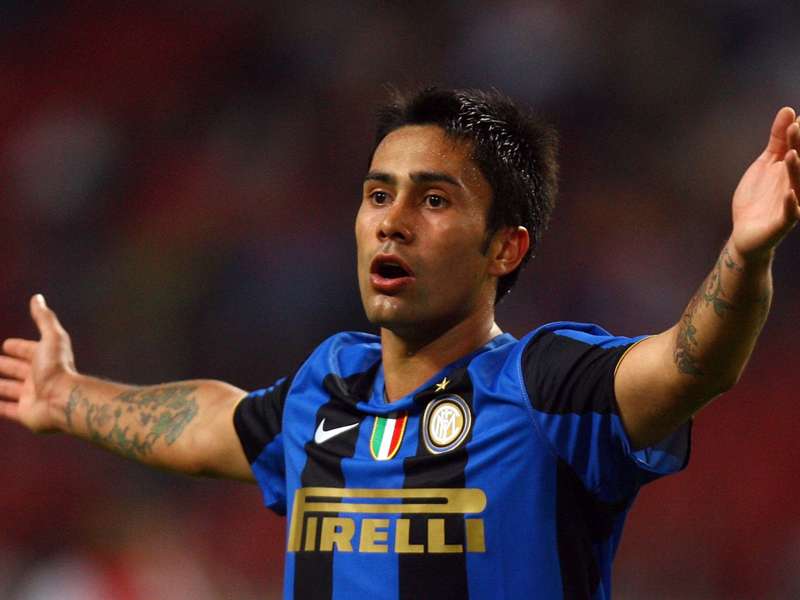 ---
EXCLUSIVE
---
The now former England boss Sam Allardyce may have claimed that the rules of Third-Party Ownership (TPO) could be circumvented but Luis Jimenez knows first-hand just how devastating an impact the practice can have upon a player's career.
Wenger must accept his time is up
The Chilean looked destined to enjoy a successful spell in Italy when he joined Serie B side Ternana from Palestino in 2002 for a fee of €500,000 but Jimenez would play just 188 games across the country's top two divisions over the next 13 years.
Jimenez had his unfair share of injuries but there was no denying that third-party ownership was to blame for transforming what should have been a dream move into a nightmare.
Indeed, the 32-year-old, who is now plying his trade in Qatar with Al Arabi, can still remember where it all went wrong: the moment Edoardo Longarini took charge of Ternana in 2005.
Pogba needs Jose to axe Fellaini
"I had arrived in Italy very young," he explains in an exclusive interview with Goal. "But I'd had a trial with Ternana and it went well. My odyssey started there.
"In truth, at the start, things were going well. But then, after the change of ownership, the problems started."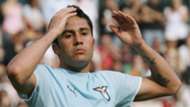 Jimenez's stellar displays in Terni - he scored 25 times in 88 appearances in Serie B - had attracted the attention of Italy's top clubs and, between 2006 and 2010, he would represent Fiorentina, Lazio, Inter and Parma.
However, Ternana refused to sell the South American outright, with Longarini always insisting on retaining a 50 per cent share of his playing rights.
Have Anderlecht found the next Messi?
"I always had a lot of offers," he explained. "I was always going on loan, I was doing well, but then I would always return to Terni and every time, it was always the same story.
"I was receiving offers but there was no way to manage to speak with the club. Then, on the final day of the market, they would send me somewhere. The wait was always nerve-racking."
Having to return to Ternana after a stint at San Siro hit Jimenez particularly hard. He thought that he had hit the big time when he followed up his first ever Inter goal, in a Champions League clash with Fenerbahce, with another strike in his first ever Serie A start, against Fiorentina.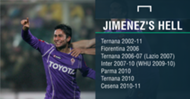 In that first season at the Giuseppe Meazza, Jimenez did enough to persuade then president Massimo Moratti to offer him a three-year contract and pay €6.3m for his services - but again, only as part of a co-ownership agreement with Ternana.
FIFA 17's top rated Serie A stars
Things got even more complicated after an injury-interrupted 2008-09 campaign, with Inter deciding to farm him out on loan, first to West Ham and then to Parma. Neither move went particularly well and perhaps that's why the Nerazzurri were reluctant to meet Ternana's asking price for Jimenez in 2010, leaving the player in limbo.
"At Inter, I had done well, fitness issues permitting, and I was convinced that the Nerazzurri would release me from co-ownership, also because I had received assurances in this regard from the club," he reveals.
"Instead, Ternana, who had been relegated to the Lega Pro in the meantime, offered more when my rights went to auction and I found myself in Terni again. From the Champions League to Lega Pro, you can imagine how I felt!
Juve ready to renew Dybala contract
"There was also no way to speak with anyone at Ternana. I had nobody to talk to. I didn't know what would become of me. It was clear that I would not be able to stay in Lega Pro but nobody seemed to care.
"Then, as usual, on the final day of the market, I ended up on loan at Cesena. We did very well. We stayed up against all expectations. It was a marvellous season. At the end of the year, though, the same story..."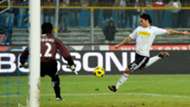 By this stage, Jimenez was at his wit's end, so he turned to Article 17 of FIFA's Regulations for the Status and Transfer of Players, a law resulting from the Webster Ruling of 2006 that enables a player to buy himself out of a contract signed before the age of 28 three years after the deal was signed.
"I had no alternative because in Italy I had an offer from Cesena but they didn't manage to get a reply from Terni," he stated. "Then, on the final day, the okay arrived, but I had already decided. I freed myself and I left.
Berlusconi's greatest 50 players
"However, if you activate Article 17, you can only go to another team from another federation and, with the European market closed, I decided to go to Dubai."
Of course, third-party ownership is now illegal but Jimenez believes that the Allardyce case has shown that the practice has "not disappeared altogether".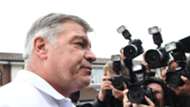 "I think that there are still things to be settled," he argues. "Anyway, I believe that we need to take greater care of players because it takes two people to sign a contract and, when things go badly, on one side or the other, you can never go back.
Lukaku: I'm not at Suarez's level yet
"When I hear that players are being put out of squads for contractual issues, I remember how I went through those moments and it's not right that a boy goes through the same situation.
"If what happened to me happens to a kid, I would advise him to surround himself with people that care about him, to not fall even in the most difficult moments, to train with intensity in order to be ready for when the storm passes.
"To those on the outside, however, I would remind them that behind the footballer, there's always a person who suffers like everyone else and deserves respect." Particularly from those in positions of power like Allardyce.