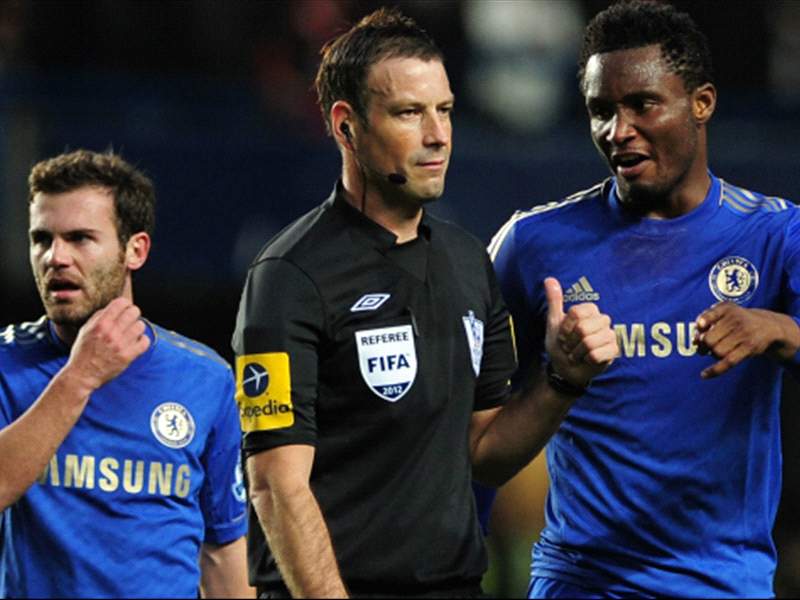 The Chairman of the Society of Black Lawyers, Peter Herbert, has accused
Chelsea
of a "cover-up" after failing to forward their allegations against Mark Clattenburg to the police.
The west London club lodged an official complaint to the Football Association following their 3-2 defeat to Manchester United in October claiming Clattenburg used "inappropriate language" towards midfielder John Obi Mikel.
However, neither the club nor player sent their allegations onto the police, who have subsequently dropped their investigation into the Premier League official, citing a lack of evidence as a primary reason.
"It sounds remarkably like a football cover-up," Herbert told
BBC Radio 5 live
.
"We strongly suspect that the FA and/or Chelsea have failed to provide this information to the Metropolitan Police in order for them to conduct a proper investigation.
"The information we had is that there are 'no victims'. Well, if there are no victims, what on earth has been referred to the FA in the first place?
"What on earth are the FA and Chelsea playing at then? Are they having some cosy exchange of statements between themselves and not giving it to the police?
"We're going to ask the borough commander for an explanation. Was there any co-operation? Was any evidence given? If none was given by the FA or Chelsea we want to raise that issue with the Minister of Sport."
Herbert condemned the club's approach and believes it is further proof of football's inability to effectively deal with racism.
He told
Sky Sports:
"What seems to have happened is that although Chelsea made a report to the FA they've decided, in their infinite wisdom, not to submit the same papers to police.
"It appears on the face of it to be another example of the football industry seeking to sweep racism under the carpet.
"If there is anything we can do to put pressure on the victims concerned to go forward to the police with this matter, then we'll do that.
"It highlights the fact that football cannot regulate itself and really, on this issue of race, always wants to take the path of least resistance.
"Given the publicity this engendered it's fair for all concerned, including the person who's alleged to have made the comment, that justice is seen to be done and it's not dealt with by the FA internally."