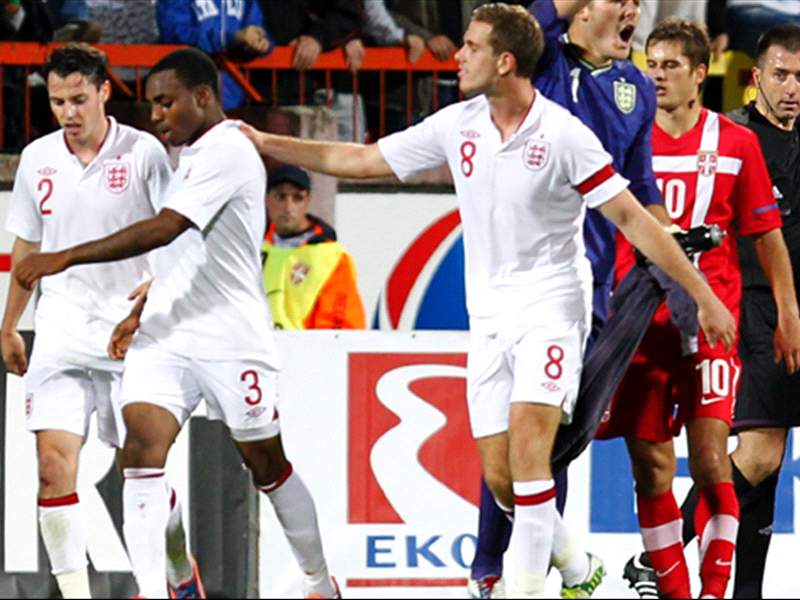 The
Serbian
Football Association's disciplinary committee has requested statements from all players and coaches involved in their Under-21 side's match against
England
, in light of the on-field brawl and alleged racist chanting from the crowd.
Uefa have charged both the English and Serbian FAs for the behaviour of the players in the aftermath of the game, while the hosts also face charges over the allegations of widespread racism among the home supporters.
The Serbian FA initially denied accusations that the on-field scuffles were connected to racism, issuing a statement on Wednesday that insisted the allegations had "absolutely no ground" and blamed England's Danny Rose for the clashes because of "inappropriate, unsportsmanlike and vulgar" behaviour.
A statement from the Serbia FA on Thursday read: "In Belgrade today an extraordinary session of the Disciplinary Committee of the Football Association of Serbia took place. It was chaired by Slobodan Pajovic, Chairman of the Disciplinary Committee of our Association.
"On this occasion it was decided that statements would be officially requested from all the players and members of the Professional Staff of the young Serbian national team who attended the second leg play-offs at the 2013 European Championship on the 16th October 2012 in Krusevac between Serbia and England (0:1), in relation to the events seen at the end of the encounter. The deadline for submission of the statement is three days.
"After obtaining these statements, the acquisition statements by officials who were involved in the game in Krusevac on behalf of the Serbian FA will be reviewed in playback, and the Disciplinary Committee will decide which individuals will be subject to disciplinary proceedings."