It's that time of year again when transfer talk dominates conversation - and
Goal.com
offered readers the chance to gain the inside track on all the main stories of the summer by grilling UK chief correspondent
Wayne Veysey
on Friday afternoon.
Our
Twitter
page was inundated with questions from all across the world, as fans demanded to know what was happening at their clubs.
Click here for a full transcript of the Q&A
- here are some of the highlights:
Q: I heard a rumour about Nani going to Inter to make room for Wesley Sneijder at Manchester United. Is that true? - Andrew LuddenWayne Veysey:
"There might be some substance in that. Sneijder has given some mixed messages about his future. Inter want him to stay but the 2010 treble winners are being broken up quicker than many imagined and they are also now without a manager following Leonardo's defection to Paris Saint-Germain.
"Manchester United clearly want and need Sneijder, he would like to join them and test himself in the Premier League. His wages could be a big stumbling block, though, as reports in Italy suggest he earns £170,000 a week at Inter, which is a lot even for United.
"There will be huge competition on the flanks at United next season should Ashley Young, as expected, complete a move from Aston Villa. I believe it depends on United signing Alexis Sanchez. If that happens, expect Nani to agitate for a move."
Q: What are the most likely transfers to happen now for Liverpool? It seems to have gone quiet on Charlie Adam and Juan Mata? - Conor GilmurrayWV:
"Sylvain Marveaux is going through as I write. Stewart Downing also expected to happen, as is Charlie Adam. Connor Wickham is a strong possibility although Ipswich are attracted by Arsenal's proposal of a season-long loan back to Portman Road. Then, Liverpool will turn their attention to a centre-half and a deputy to Jose Reina."
Q: What are Tottenham's chances of signing Samuel Eto'o? - Ohio Rafael D. OrumenWV:
"Very, very slim for one simple reason: his exorbitant wages. He is believed to be on £200,000-a-week at Inter, which is more than double what Spurs can afford. Although, by the way, they did try very seriously to sign him during his Barcelona days. Expect some strong interest from Manchester City."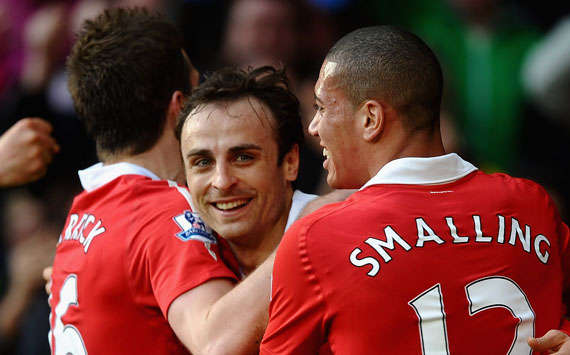 Q: What's the latest on Berbatov's position at Manchester United? Will he leave? If so, to who? - Nathan PrinceWV:
"The latest on Berbatov is that he told the United hierarchy shortly before the Champions League final that he intends to run out his contract, which has a year to run. This is almost certainly a bargaining chip to get a better deal than the one-year extension currently on the table. If that is not forthcoming, he will be able to leave on a Bosman free."
Q: Is there any real chance of Real Madrid signing Cesc Fabregas? - Don BanksWV:
"Never say never in football. Extraordinary, unlikely deals do happen. But I would put a good suit of mine on Fabregas leaving Arsenal only for Barcelona. Real is a chance but only perhaps a one or two per cent chance."
Click here for the full transcript
of the Q&A and don't worry if we didn't manage to answer your question this time around - there will be more Q&As throughout the summer. Next up is a Spanish special with Ben Hayward on Tuesday June 21, from 2pm BST.