By Wayne Veysey | Arsenal Correspondent
Arsenal
handed
Cesc Fabregas
an unprecedented £3 million 'golden handcuffs' payment and upped his wages by nearly 50 per cent to £110,000-a-week to keep him at the club,
Goal.com UK
can reveal today.
The incredible package, which is believed to have been formalised last summer after lengthy negotiations, was agreed to compensate the Spaniard for his relatively 'below-par' salary.
MORE...

It made Fabregas the highest-paid player in Arsenal's history and has given the club hope that he will once again ignore advances from the Continent this summer and stay at Emirates Stadium.
In 2006, Fabregas signed an eight-year contract, which was worth an initial £60,000-per-week with annual increments built in.
But the player and his agent Darren Dein began talks in 2008 to renegotiate the terms of the deal with the club to reflect his growing status as one of the finest young players in the world.
Goal.com UK
understands that the board were so desperate to hang on to the player they signed from Barcelona at 16 that they finally sanctioned an unprecedented deal to not only increase his salary from £80,000-per-week to £110,000-a-week but also back-date his pay for two years to compensate him for being underpaid over that period compared to other elite Premier League players.
The result was the player received a one-off sum, equivalent to a signing-on-fee, of around £3m, which was effectively £1.5m, or £30,000-a-week, for each of those two years.
"Arsenal were so desperate to keep him," said a boardroom source. "He has become the club's talisman and the figurehead for the new generation. His status is similar to what Thierry Henry's once was.
"Fabregas and his advisers know they have the club over both barrels."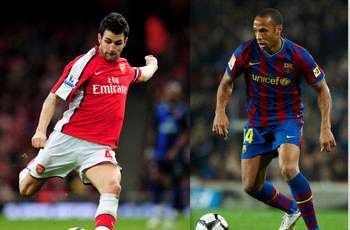 Big earners | Fabregas deal surpassed Henry's
Henry was also represented by Dein when he struck a similarly hard bargain as he contemplated whether to move to Barcelona in 2006. The switch was finally completed 14 months later.
The former Arsenal striker was paid the equivalent of £200,000-a-week during his final season in north London, when Dein was in charge of contract negotiations.
MORE...
Henry received a £5m signing-on fee when he put pen to paper on the four-year deal, which was topped up by a £5m salary.
Although there was anger among some of the directors that the signing-on fee had not been spread out over the entirety of the contract, it appears that the board have been forced into a similarly tight corner with Fabregas.
Nevertheless, Arsenal are confident that the secret deal will help ward off predators, principally Barcelona, this summer.
It has taken the player near to the top of Europe's high-pay league and has made him comfortably the highest earner at the club, above manager Arsene Wenger, William Gallas and Andrey Arshavin.
"Arsenal have been loyal to Fabregas and believe he will be loyal to them," added the insider. "They know he can earn equally good money, if not better, elsewhere but there are two things in Arsenal's favour.
"Fabregas is in awe of Arsene Wenger because he feels he owes his career to him and he is also a pragmatic man. He knows that he is young and Barcelona can wait."
Although Arsenal's transfer spending has been constrained by the construction of Emirates Stadium, that has not stopped them sanctioning big wage hikes for many of their players.
Seventeen players have been given improved contracts this season and the wage bill is believed to have increased to £115m, the third highest in the Premier League.
Become a fan of Goal.com UK's Facebook fan page for all the latest news and insight into everything related to the beautiful game!