AFC U16 Championship
2018 AFC U16 Championship: Iran team manager Hossein Moradi wary of contrasting styles among teams in Group C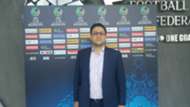 The draw for the 2018 AFC U16 Championship to be held in Malaysia was held in Kuala Lumpur on Thursday. The Indian colts have been drawn in Group C along with Iran, Vietnam and Indonesia.
Iran were the champions in 2008 and finished runner-up to Iraq in the last edition in 2016. Incidentally, Iran and India have been drawn in the same group for three consecutive editions now. Goal caught up with Iran team manager Hossein Moradi to get his reaction on the team's draw.
"It is not going to be easy. We have played India five times in the past few years. East Asia and ASEAN countries are very different from West Asia. We will try to get familiar with the football played at this region. Perhaps we will plan for some friendly matches here," Moradi said about the make-up of the group.
"The other consideration that we have is about the constant changing of players at this age-level. So we want to develop a consistent team for the tournament," he added.
The 16-team tournament will get underway in September and the high temperatures could be a concern for the participating teams.
"Definitely it (the climate) is one of our concerns. Especially it will have more impact on the team when the team is an underage team with young players. We will definitely adjust our team. We will familiarize our players before the start of the competition. Yes we are thinking about coming early to prepare," Moradi said.
The Iran manager also stressed that it is a difficult task to gauge the strengths of various teams in the junior age-levels.
"This is not an age-level you cannot easily predict on account of the strength of any team because the players keep changing in every team. It is too early to say who is going to be a very strong team. It is not easy to make predictions," Moradi explained.
Having finished runner-up to Iraq the last time around, the Iran manager has set expectations sky-high for the 2018 tournament.
"We have already set our target for the Championship. Once we qualify for the World Cup (U17), we want to go one step further this time and make the last four," Moradi stated before signing off.