Ghana
Yakubu backs Afriyie for Ghana FA presidency in 2019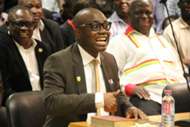 New Edubiase United boss Abdul Salam Yakubu insists that Ghana FA current vice president George Kwesi Afriyie is the best option to succeed Kwesi Nyantakyi whose tenure of office comes to an end in 2019.
Nyantakyi, 47, has confirmed reports that he would not contest for reelection in 2019 after becoming the association's chief in 2005 when he replaced Dr. Nyaho Nyaho Tamakoe.
"There is no way that George Afriyie won't be the football association's president after Kwesi Nyantakyi leaves unless he says he won't contest," Yakubu told Happy FM.
"We should abandon the idea or the fact that he is part of the current management which is having issues. The owners of the clubs know what George Afriyie has done for us and we all know what we want. It is not Techiman City president Micky Charles, who will tell us he will bring someone to lead us. Who is he even going to bring to contest Afriyie?
"As we're running football in the country, we know those who help us to run our football and Afriyie is one of those people. There is no way any contestant will come close to the seat when Afriyie is part of the race," he said.
He added: "I like Kurt Okraku, Fred Pappoe and Randy Abbey since they're also potential contestants but I think if there is someone who can help develop football in the country, it is Afriyie. Let me emphasis also that it is too late for others to start their lobbying."
Goal understand that campaign posters of Fred Pappoe have been circulating among delegates ahead of the elections.