Barcelona
Xavi: I'm not ready to coach Barcelona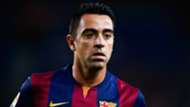 Xavi does not believe he is ready to coach former club Barcelona yet and urged patience from those who expect greatness from him.
The decorated former Barcelona captain currently plies his trade in Qatar with Al-Sadd, who he joined in the summer of 2015, and has been taking his coaching qualifications at the same time.
The midfielder explained that he had not yet finished his coaching education, perhaps the reason behind the 38-year-old delaying his retirement from playing at the end of the 2017-18 season.
"Now I can coach in small countries, but next year, in May, I hope to get the UEFA Pro license to be able to coach any team," he told TV3.
Xavi has long dealt with the weight of expectation, but he rejected comparisons with Pep Guardiola, who is widely considered one of the best managers in the world, winning a multitude of trophies with Barcelona, Bayern Munich and Manchester City.
"As a player, it was the same, people expect things from me prematurely, like when I was said to be the 'new Guardiola' and I still don't see it," he added.
"Now it's the same, I do not see myself as a fully-formed coach yet. We must be patient."
The Spaniard also revealed how he has been able to relax more in his personal life since leaving his boyhood club, allowing him time to focus on things other than playing football.
"Before I was in the aura of competing, with that tension and that pressure, [now] when you sit back, you think, 'that's good'.
"I do not like to be a protagonist, but when you play at Barca, you're the protagonist. Now I have more time for everything, before I could not, because since I was 16 I've been a professional footballer, and even if you are a minor, you have to take care of yourself and so on. It has been a great tension for many years."
Barcelona's record appearance holder described how in 2014 he had felt that "the end had arrived", and that he felt "burnt out" after the World Cup, but his mother persuaded him to stay for another year.
"My mother insisted on me staying at Barca and the truth is that she was right because we won the treble."