Betting
World Cup 2018: Cristiano Ronaldo looks to continue good form for Portugal against Morocco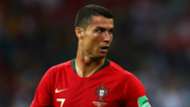 Following a thrilling 3-3 draw between Portugal and Spain in the first round of 2018 FIFA World Cup games, the two will look to get their first win under their belts This Wednesday (20 June). The two remain the favourites to qualify from their group, but are yet to record a win.
First things first
Before you go any further, head over to the Oddsshark website, find your favourite betting agency and set up your very own account with your credit. As a new user and with the World Cup group phase underway, there should be a wide range of promotions and offers for you to enjoy.
When can I make money with these games?
After becoming the oldest player ever to score a hat-trick in the World Cup, Portuguese star Cristiano Ronaldo will be hoping to continue his goal scoring form against a relatively weak Morocco side. The Real Madrid ace is now the red hot favourite to win the Golden Boot at the tournament and is priced at just 3.25 to finish as top goal scorer, ahead of Diego Costa (7.50) and Romelu Lukaku (9.00), according to Oddsshark.
And coming into this game against Morocco, it is the European side who are the clear favourites. The current European champions are priced at just 1.66 to take all three points in this game, whilst Morocco are at a more distant 6.00 – a stalemate is priced at 3.75.
And it is no surprise that going into this game, the player to watch is Ronaldo. The 33 year old is priced very short, at 1.83, to score at any time during the game, and at 3.60 to net either the first or the last goal of the game.
Morocco, meanwhile, made a disastrous start to the World Cup, losing 1-0 to Iran. They now need at least a point against a strong Portugal side to have a chance of reaching the round of 16.
The African side are now at a distant 11.00 to reach the knock-out phase of the World Cup, whilst Portugal are at just 1.20 to progress in the tournament and 2.60 to top Group B, ahead of Spain. While it is always difficult to predict the exact score of a game, you can back Portugal to record a comfortable 1-0 win at a price of 7.50.
Odds: Portugal (1.66), Morocco (6.00), draw (3.75)
Spain, meanwhile, play later on the same day against Iran. After beating Morocco, Iran can come into this game on a high but they cannot hope to match the technical superiority of the 2010 World Cup winners.
The European side come into this game as the red hot favourites to take all three points. The Spanish side are at just 1.16 to win this game, while Iran are at 23.00 to walk away victorious, but given the strength of the Spanish team it looks unlikely.
Spain, however, looked like they had weaknesses at the back, and there could well be goals in this one. You can back both teams to score at a price of 3.40, or alternatively you can bet against that notion at the much shorter price of 1.30.
In short, the Spanish will be expecting to record a comprehensive victory in this one, and you can back them to win this encounter by a three goal margin at a price of 4.75. The price of a victory by a four goal margin of even greater is shorter, at 4.50, with all signs pointing towards a comfortable ride for the 2010 World Cup winners.
Spain will look to be more secure in defence, but it is unlikely that Iran will create the same sort of problems that Ronaldo and Portugal did. You can, however, potentially double your money by backing Spain to win both halves at a price of just 2.10.
Diego Costa, meanwhile, comes into this game in fine goal scoring form having bagged a brace against Portugal, and he will surely fancy his chances against a relatively weak Iran outfit. The Brazilian-born forward is priced at just 1.83 at any time during the game, and is at 4.00 to net either the first of the last goal.
Of course, there is still work to do for Spain, but this game should not cause them too many headaches. You can back the European giants to inflict a 4-0 thrashing on their opponents at a price of 10.00.
Odds: Iran (21.00), Spain (1.18), draw (7.50)
2018 FIFA WORLD CUP FIRST ROUND GROUP GAMES
Thursday, 14 June
6.00pm – (1.45) Russia 5 x 0 Saudi Arabia (9.12) 
                  Draw (4.39)
Friday, 15 June
3.00pm – (7.50) Egypt 0 x 1 Uruguay (1.57)
                  Draw (3.90)
6.00pm – (2.25) Morocco 0 x 1 Iran (3.90)
                  Draw (3.10)
9.00pm – (4.20) Portugal 3 x 3 Spain (2.05)
                  Draw (3.30)
Saturday, 16 June
1.00pm – (1.25) France 2 x 1 Australia (12.00)
                  Draw (7.00)
4.00pm – (1.33) Argentina 1 x 1 Iceland (12.00)
                  Draw (5.25)
7.00pm – (3.30) Peru 0 x 1 Denmark (2.40)
                 Draw (3.25)
10.00pm – (1.72) Croatia 2 x 0 Nigeria (5.75)
                    Draw (3.70)
Sunday, 17 June
3.00pm – (5.00) Costa Rica 0 x 1 Serbia (1.90)
                 Draw (3.30)
6.00pm – (1.50) Germany 0 x 1 Mexico (7.50)
                  Draw (4.50)
9.00pm – (1.40) Brazil 1 x 1 Switzerland (9.50)
                  Draw (4.80)
Monday, 18 June
3.00pm – (2.05) Sweden 1 x 0 South Korea (4.33)
                  Draw (3.25)
6.00pm – (1.18) Belgium 3 x 0 Panama (21.00)
                 Draw (7.50)
9.00pm – (9.00) Tunisia 1 x 2 England (1.44)
                  Draw (4.50)
Tuesday, 19 June
3.00pm – (1.72) Colombia x Japan (6.00)
                  Draw (3.60)
6.00pm – (2.40) Poland x Senegal (3.30)
                  Draw (3.25)