Liverpool v Chelsea
Willian's late show secures Chelsea a deserved draw against Liverpool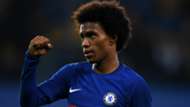 There was little to pick between Liverpool and Chelsea during Saturday's Premier League clash at Anfield. Both sides went into the game aware that a victory was likely necessary to maintain any hopes of the title, even at this early stage of the season, yet neither were able to claim it as they played out a 1-1 draw.
Liverpool, however, came closer to claiming the spoils, with Mohamed Salah's goal midway through the second half giving them the edge. Antonio Conte went for broke thereafter, making offensive substitutions, and he will feel that his stance was justified when Willian blasted the Blues level with just five minutes remaining.
It was not a result that either club particularly wanted, yet it is one that was largely fair over the balance of the game. 
After the match, the Reds faced accusations of timewasting in a bid to close out the match, though manager Jurgen Klopp hit back furiously by saying: "We try to close games down, but we don't do it in a cynical way."
Certainly, there was little to pick between the sides in terms of the statistics over the course of the game. Whereas Liverpool edged possession and passes, it was Chelsea who were a little more effective with their use of the ball, getting marginally more efforts on goal away.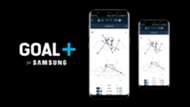 It was also notable that both sides adopted a similar attitude in the direction of their attacks. Just 27% of Liverpool's forays forward came through the centre of the field, while Chelsea offered just 28% in that area. It was down the flanks that both sides sought primarily to probe. 
Both defences, though, stood up well to the challenge. The Reds may have been prone to making individual errors this term that have proved to be hugely costly, yet they did well to restrict Chelsea to only five shots from within the box, with the only one of those that was on target, Willian's effort, finding the net.
Chelsea were even more robust in this regard, with the hosts mustering just two efforts in total from inside their penalty area, with Salah scoring with one of those.
It was a match that continued the trend of fixtures between England's top sides being close-fought affairs, but while the likes of Chelsea and Liverpool cut each other's throats with draws, Manchester City continue to win relentlessly at the top of the table.
Now a remarkable effort is needed for either to mount a serious title challenge.
All stats featured in the article came courtesy of the Goal+ app, exclusive to Samsung devices. Download the most cutting edge football app now!