Transfers
Why Chelsea chose not to fight the Manchester clubs for Alexis Sanchez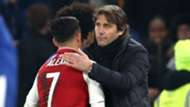 With Alexis Sanchez hell-bent on leaving Arsenal during the January transfer window and Chelsea in desperate need of attacking reinforcements, one would expect the Blues to be all over the Chile international.
Instead, they are nowhere to be seen – regardless of rumours to the contrary - as Manchester United are the strong favourites to sign the former Barcelona man, having leapfrogged Manchester City in the race for his signature.
Antonio Conte previously tried to sign Alexis while at Juventus and has not hidden his admiration for the forward, but Chelsea have opted against pursuing the Arsenal ace due to the costs involved, with the 29-year-old's wage demands well above what they are willing to spend.
Alexis is believed to be demanding a whopping £350-400k a week, with Chelsea's current highest earner in Eden Hazard on 'just' £200k - even if he is set for a raise.
The Stamford Bridge outfit also recognise that they would have to part with a significant bonus for agent Fernando Felicevich and a hefty transfer fee for a player who is out of contract in six months.
Chelsea might have outdone their rivals on the pitch in 2016-17 as they cruised to Premier League glory, but they are lagging behind the Manchester clubs in the transfer market.
They made a £15.3 million profit for the year ending June 30, 2017, but that was largely down to a number of outgoing transfers. More significant, however, is the fact that their £361.3m turnover for last year was not even close to the £581m posted by United or City's £473.4m.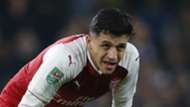 Manchester City owner Sheikh Mansour is estimated to be four times as wealthy as Chelsea's Roman Abramovich and Soccerex ranked City as the most financially powerful club in the world .
Meanwhile, Manchester United's business model sees them blow their rivals away in the commercial market, allowing them to spend big on the transfer market. They might not have an owner capable of huge cash injections, but they have more than doubled their commercial income since 2013 from £123m to an incredible £276m.
Their commercial revenue means that even though Man Utd spend more on salaries than Chelsea, the amount of money they use on wages represents a mere 45 per cent of their total budget, compared to Chelsea's 65 per cent.
Chelsea are unable to compete for high-profile names unless they operate using a one-in, one-out approach. Alvaro Morata was brought in because Diego Costa was being sold, Tiemoue Bakayoko joined as Nemanja Matic left for United.
Man City, meanwhile, spent big on players such as Benjamin Mendy, Kyle Walker, Ederson and Bernardo Silva without worrying too much about making money on outgoing transfers – with Kelechi Iheanacho their only sale over £20m.
Elsewhere in Europe, Paris Saint-Germain lured Neymar away from Barcelona for €222m, while also committing to bringing in Kylian Mbappe for a reported €180m after his one-year loan spell.
Chelsea are not the only club struggling to keep up with City and PSG as La Liga president Javier Tebas controversially accused the clubs of "financial doping", while Bayern Munich have also conceded they cannot compete with such financial prowess. 
But whereas Bayern, United, Barcelona and Real Madrid have the advantage of legacy, with Financial Fair Play benefitting these traditional giants and their business models that are mature compared to the new challengers, Chelsea are in a different situation. 
They aim to increase commercial revenue and build a new 60,000 seater stadium, but they may have to be patient to reap the rewards. 
Therefore, Chelsea's transfer policy is mainly seeing them sign players in their mid-to early 20s as re-sale value becomes increasingly important, a strategy also employed by Tottenham Hotspur, Borussia Dortmund and Monaco among others. 
Summer arrivals Morata, Bakayoko and Antonio Rudiger as well as winter signing Ross Barkley all fit that bill. Sanchez not so much.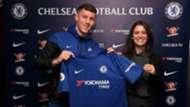 Not only would he disrupt the club's wage budget with key figures such as Eden Hazard and Thibaut Courtois already due for renewal talks, but he also does not fit their philosophy age-wise.
Chelsea currently have a policy whereby they do not offer players over the age of 30 contracts that last longer than a year - Yossi Benayoun in 2010 was the last thirty-something to earn a longer deal. Alexis turns 30 this year and the Blues are not prepared to pay such high wages for an ageing player.
United and City can still be challenged in the market by Chelsea, but they will have to pick their battles and focus on the players that fit their new philosophy.
Sanchez is not the first player Chelsea will miss out on with this strategy and he will not be the last. That's the new reality the club's fans will have to get used to until their new stadium is ready.