Transfers
Who is Antonio Rudiger? Chelsea's £34m man mountain who bullies forwards & fights racism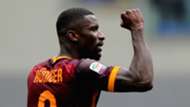 ---
COMMENT
---
"I'm not the typical German," Antonio Rudiger stated earlier this year. "Because, as everyone can see, I'm not white."
It goes beyond that, though, as far as he is concerned, because while the colour of his skin was never an issue in his home town of Neukolln, he always felt a bit different to his compatriots.
In a bizarre way, he actually felt more at home when he moved to Italy in 2015, after joining Roma from Stuttgart.
Real Madrid's worst 15 signings ever
He found the locals wonderfully welcoming, explaining that "in Germany, not only the weather is cold, most of the people are very cold too."
Paradoxically, though, it was in Italy that he would experience the darker side of humanity.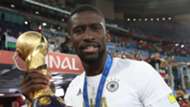 On December 4 of last year, Rudiger helped Roma defeat city rivals Lazio 2-0 at the Stadio Olimpico. Danilo Cataldi was sent off but it was Biancocelesti team-mate Senad Lulic who would become the centre of attention for his post-match comments.
"Rudiger was provoking us even before the game," the Bosnian moaned in an interview with Mediaset Premium. "Two years ago, he was there in Stuttgart, selling socks and belts, and now he acts like he's a phenomenon."
The racist connotations were as obvious as they were offensive. Depressingly, Lulic was able to agree a plea bargain with the Italian Football Federation (FIGC) and he only missed one game through suspension.
Revealed: When Messi will sign Barca deal
Rudiger eventually spoke out on the issue of racism after further incidents involving Sulley Muntari and Medhi Benatia.
"I take this very seriously because I cannot and must not ignore something like this," he told Bild in May. "I am part of this too. Racism is a serious issue here...
"When the Italian FA is not doing anything then FIFA must act. It is easy to come up with the 'No to racism' campaign but when you don't do anything concrete, then that does not help."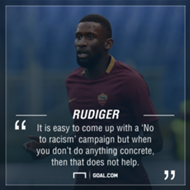 Rudiger had said what many people had been thinking for some time but he was frustrated at having had to become a spokesman on race relations.
It was not a role he had expected to have to fulfil when he had moved to Italy. He had come to Serie A to learn, to improve as a defender. And he had done just that.
Rudiger had grown up idolising Arsenal ace Thierry Henry and spent his younger days playing up front. However, by the time he had been picked up by Borussia Dortmund as a teenager, he had developed into a centre-half and his new heroes were legendary Italian defenders Paolo Maldini, Alessando Nesta and Fabio Cannavaro.
BVB now have an excellent reputation for nurturing young talent but Rudiger felt that he would be better served by leaving Signal Iduna Park for Stuttgart.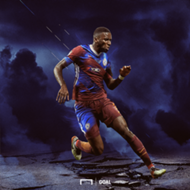 "If you look at the statistics, since Mario Gotze went up into the first team from the youth sector, there were only two other players who made the same jump," he later mused. "If I look at my career with Stuttgart, I played more than 80 games with the first team. So I think I made the right choice."
RUMOURS: All the latest rumours
Indeed, it was while playing for Stuttgart that he attracted the attention of some of Europe's top clubs, including Liverpool. However, he eventually joined Roma, initially as part of a €4 million loan deal, having been drawn to 'The Eternal City' by the prospect of Champions League football.
He was troubled by a knee problem at the start of his debut season but eventually forced his way into the starting line-up. His form was erratic, though. He was error-prone and ill-disciplined. He admits that himself now.
"One or two good games, then one bad," he concedes.
However, Joachim Low rated him highly, even comparing him to Jerome Boateng, and Rudiger would have represented Germany at Euro 2016 had injury not intervened. The cruciate ligament damage that he suffered in training on the eve of his first major tournament also scuppered his proposed move to Chelsea.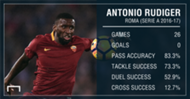 In the end, he signed a permanent contract with Roma, for an additional €9m and, when he returned to full fitness, he not only looked like his old self, he looked better than ever before.
"When I came back on the pitch they told me that it was as if I'd never been injured," he enthused.
He had bulked up during his time off and became an even more daunting prospect for Serie A attackers. Whether deployed on the right-hand side or in the centre of defence (he also played on the left of a back three in Germany's Confederations Cup success), Rudiger bullied strikers and kept up with pacey wingers. Physically he has all the attributes required for the Premier League - with strength and speed in abundance - and his 6ft 3in frame means he is formidable in the air also.
Ronaldo posts bizarre topless photo
When asked about the collapse of his proposed transfer to Stamford Bridge last summer, he replied, "All I can say is that [Antonio] Conte is a great coach."
The feeling clearly remained mutual, with the Blues boss having been the driving force behind a £34m transfer to Stamford Bridge.
Blues fans seem strangely underwhelmed by his arrival but in a transfer window in which Virgil van Dijk is being priced at €70m, Rudiger should prove excellent value, given the fact that he can play anywhere across the back-line, in either a three or five-man defences.
To put it another way, he is not the typical defender – and that makes him very special indeed.