Transfers
Wenger must do whatever it takes to keep PSG target Alexis at Arsenal, says Seaman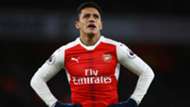 ---
EXCLUSIVE
---
Arsene Wenger has been told by former Gunners goalkeeper David Seaman to do "whatever it takes" to keep Manchester City and Paris Saint-Germain target Alexis Sanchez at Arsenal. 
The Chile international playmaker reportedly was made a priority target by City boss Pep Guardiola and a deal looked close, with Alexis agreeing terms at the Etihad club.
However, Arsenal's reluctance to sell to a Premier League rival apparently slowed the process and allowed PSG to hold talks with the 28-year-old and his representatives in Paris last week. 
City remain determined to land Alexis, though PSG are reportedly willing to throw a substantial amount of money on top of whatever the Premier League side offer. 
Seaman, however, believes Wenger and the Arsenal chiefs must not let their talisman leave north London under any circumstances if they are to stand any chance of mounting a serious title challenge next season.
"[Arsene Wenger's] main problem is going to be holding on to Alexis Sanchez," Seaman told Goal. "I would do whatever it takes to hold on to him because he's a quality player who you wouldn't want to be leaving the club, especially to your rivals.
"Sanchez-type players are the ones Arsenal should be bringing in."
Alexis struck 24 Premier League goals last season with another six coming in cup competitions, and registered 13 assists across the board. 
With just a year remaining on his contract at the Emirates, however, and with Arsenal having failed to qualify for the Champions League next season, a lucrative move away seems likely. 
Neymar needs to confirm Barca future
Arsenal have brought in Alexandre Lacazette from Lyon to bolster their forward unit, but Seaman believes the Gunners would have a hard time finding a direct replacement for Alexis should he leave the club.
"To replace him, It'd be hard," he added. "What are they going to get for him? He's got a year left on his contract, his price-tag, I'd guess, would be around £50-70 million – you can't guarantee spending that money and getting a player as good as Sanchez.
"He's a guy who is just brilliant all over the pitch."
The failure to finish in a top-four position last term has seen a host of first-team players linked with a summer exit, with Mesut Ozil at the forefront of the speculation. 
The Germany international also sees his deal expire at the end of the upcoming season, though contract talks are currently ongoing. 
And, like Alexis, Seaman believes it'd be a major blow for Arsenal to lose Ozil, though is confident they are in a position to offer him what he wants. 
All the latest transfer rumours
"I think that is more or less settled now. I think he's going to stay," Seaman said. "He's another one of those players who splits the fans but he's a quality player. You can't take that away from him — when he's on his game he is brilliant.
"It's just the way he looks on the pitch sometimes, like he's not trying, but trust me he is, you can tell he is. It's the same situation as Sanchez, you don't want players of the standard leaving Arsenal.
"Arsenal were at this stage a few years ago when Cesc Fabregas, Samir Nasri and Gael Clichy left — they were reaching their prime but leaving. It was sad. 
"I think the club have moved on from that now and they can offer the right contracts for the big players and also pay the fees."
David Seaman is the Brand Ambassador and leads the judging panel for SpottoCash, a spot-the-ball competition for the digital generation. Visit spottocash.com for details.