Arsenal
Wenger: Arsenal entering the 'moment of truth'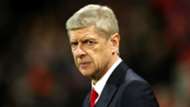 Arsene Wenger has urged his side to focus on each game as it comes and believes Arsenal are now entering a "moment of truth" period over the next few months.
Arsenal star signs contract extension
The Gunners are eight points behind Premier League leaders Chelsea and face the Blues in a crucial clash at Stamford Bridge in February, but Wenger believes it is better to focus on the task at hand ahead of Sunday's game against Burnley.
With the likes of Francis Coquelin, Hector Bellerin and Kieran Gibbs all returning from injury at such a key point in Arsenal's season, Wenger says that it is vital that his most experienced players stay fit over the coming weeks.
"The big games are only important if you do well in the games that have less interest", Wenger told reporters in his pre-match press conference on Friday.
"We are going to the moment of truth now - January until May. It's five months to go. You want your players with big players in the squad back now. That's why I say every game is important and we just focus on the next one."
Wenger's men also face an FA Cup fourth round match with Southampton at St Mary's Stadium before ending the month with a game against Watford at Emirates Stadium.