AFC Champions League
WATCH: Paulinho and Alan turn on the flair in Guangzhou Evergrande rout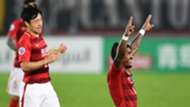 Guangzhou may be half a world away from Brazil, but that didn't stop a pair of Brazilians from making a big impact in an AFC Champions League contest there.
Chinese Super League side Guangzhou Evergrande ran rampant over Hong Kong Premier League's Eastern in the group stage contest by a 7-0 margin, with Brazilians Alan and Paulinho each picking up an impressive goal in the rout.
Alan, who missed a penalty earlier in the contest, struck in the 65th minute, ripping a blast from the edge of the area, leaving both defenders and the goalkeeper without a chance of stopping it. That gave his side a 5-0 lead.
Paulinho then made it 6-0 in the 82nd minute with a nice run through the Eastern defence, before hitting a perfect shot into the bottom corner.
They won't always be that easy, but it certainly was a night to enjoy for the duo and the rest of the Guangzhou Evergrande side.