Premier League
WATCH: Man City FIFA 17 pro Kez Brown gives his top Ultimate Team tips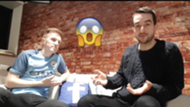 ---
VIDEO
---
Pep Guardiola was not the only groundbreaking arrival at Manchester City last year — the Premier League club also signed up professional FIFA player Kez Brown.
Barca to appeal Suarez red card
Kez, who has only been playing FIFA for three years, represents the Blues against other clubs from around the world at top-level FIFA tournaments.
Goal's Manchester City correspondent, Sam Lee, recently caught up with Kez to get an insight into being one of the world's best FIFA players, and what it's like to play with an Ultimate Team XI full of TOTYs and legends.
Watch the video below to find out Kez's three favourite players on the game, the starting line-up he uses for FIFA's notoriously difficult FUT Champions campaign (with none of his three favourite players in it!) and why he sold the best player he ever got in a pack.
There's more to come from Kez and Sam in the coming weeks, so stay tuned to see what happened when they played each other over two legs in a Goal v City FIFA showdown.