Videos
WATCH: Ghana end World Cup campaign with a win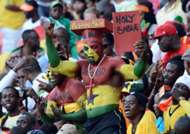 Ghana ended their 2018 World Cup campaign with a 1-0 win over New Zealand on Sunday.
Yussif Basigi's side had lost 4-1 to France and 4-0 to Netherland to shorten their ambition of reaching the quarter-final.
However, they stepped up their game against New Zealand to record a win thanks to Ruth Anima's 75th minute strike.
Watch highlight as presented by Fifa Youtube channel