Friendlies Women
Viktoria Schnaderbeck tips African women football to rise soon
in Germany courtesy of StarTimes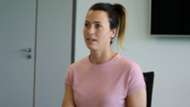 Viktoria Schnaderbeck is confident that African women football will make huge strides in the coming years.
The long serving Bayern Munich player insists that Africa have talented women footballers, who can compete with the rest in the World.
"Africa have the talent that any continent needs to compete at the top level in the game and I have a strong believe that soon, they will be dining with top teams at the big stage."
The Austria captain maintained that she was impressed by the talent she spotted during her recent visit to Tanzania.
"We can only hope and pray for the best because all they (Africa) need to do is pull together and support women football.
"Some are not ready to accept that women can play football hence the reason they are ragging behind but if they make a decision and move in one direction, then you will see a great improvement in Africa."
Schnaderbeck also pledged to help Africa rise to the top. "I already have a working relationship in Tanzania and will also want to spread my wings to other areas. I will be available to help if anyone needs my contribution."
Schnaderbeck has been with Bayern Munich since 2010, winning the league in the 2014/15 and 2015/16 seasons.
She made five appearances in the Uefa Women's Champions League in 2015/16 and 2016/17 seasons. On 18 April 2016, Schnaderbeck extended her contract until 2018.