Videos
VIDEO: Neymar and Suarez's childish prank on Pique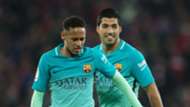 Barcelona training can often get a bit boring when you are one of the world's best footballers.
So to make it a bit more exciting, and add some variety to the usual drills, forwards Neymar and Luis Suarez decided to play a prank on team-mate Gerard Pique.
After some general trickery and playacting, the attacking duo played a classic schoolyard trick on the defender.
Watch the hilarity unfold in the video below:
Barcelona are currently third in La Liga, but are just two points adrift of leaders Real Madrid.