Ayacucho
VIDEO: Goalkeeper's incredible last-gasp goal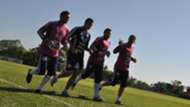 Mario Villasanti made a name for himself on Saturday with a last-minute equaliser for his side – especially as he is more used to stopping goals than scoring them.
The goalkeeper elected to take a penalty deep in stoppage time of Ayacucho's Peruvian league encounter against Union Comercio. 
WATCH: Fabinho's cheeky Panenka
As his side trailed 1-0 and had been reduced to 10 men, there was a good deal of pressure on the kick, which was taken a whopping five minutes into injury time at the end of the game. But the 34-year-old coped with it admirably, smashing the ball high into the net before dashing off to celebrate with his colleagues. 
It's a goalkeeper scoring a goal: what's not to like!?