WTF
VIDEO: Chicken stops play in Portugal!?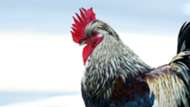 Ladies and gentlemen, behold: one of the weirdest interruptions to a football match you'll ever see.
Monday night saw Braga host Estoril in the Primeira Liga but things got into a bit of a flutter during their 1-1 draw when a chicken found its way onto the pitch. Blackburn fans will be having flashbacks!
Check out the bizarre incident above!