Monaco
Victory at last! Thierry Henry earns first win as Monaco manager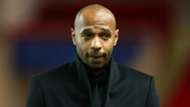 Thierry Henry finally has a win on his managerial record. 
A Radamel Falcao goal 54 minutes in was all Monaco needed to claim a 1-0 win over Caen in Ligue 1 play on Saturday, handing Henry his first victory as manager of the French side in seven matches at the helm. 
The Arsenal, Barcelona and France legend replaced the sacked Leonardo Jardim six weeks ago with the club third from bottom, following his time as an assistant for Belgium. 
But the fortunes of the French side changed little with Henry calling the shots. 
The club lost four and drew two of his first six matches in charge before finally picking up a win on Saturday.
His time has seen the club knocked out of the Champions League and, even after Saturday's win, they sit two points back of safety in Ligue 1. 
Saturday's result followed back-to-back 4-0 thumpings, one at the hands of Ligue 1 giants PSG and the other a Champions League stinker against Club Brugge. 
"This victory is a huge relief. We needed that," Henry said after the match. 
"I am happy for the players, the fans. We could have hidden, because in football you never know, but it turned in our favour.
"This victory can bring us a little serenity, but it is only the beginning and we are still relegated.
"There are still many battles to be fought."
The road doesn't get much easier. 
Monaco are back Champions League action midweek against Atletico Madrid and follow that with a Ligue 1 clash against fourth-placed Montpellier. 
The club will also face Dortmund, Lyon and Nice in early December, which will keep hopes that Saturday's victory will spark a sharp reversal of fortunes tempered. 
Still, with Monaco sat second bottom of the table and Caen, currently sitting 17th, the win could prove a vital six-pointer as the traditional power looks to avoid relegation from the top flight. 
"We are in a delicate situation, everyone is aware. It is not because we have injured players that we must seek excuses," Henry said on Friday. 
But there are were no excuses needed on Saturday as the club finally found a winner.