United States
USA ready for potentially frustrating task of breaking down Honduras bunker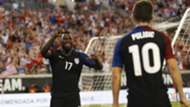 SAN JOSE, Calif. — As if being without key attacking options like Bobby Wood, Fabian Johnson and Jordan Morris didn't make things difficult enough for Bruce Arena's U.S. national team heading into Friday's World Cup qualifying clash with Honduras, the Americans will also be facing a Catrachos team that will be intent on a defend-and-counter approach that its coach is a master of deploying.
Pulisic unfazed as spotlight grows
Jorge Luis Pinto found considerable success as head coach of Costa Rica, guiding the Ticos to the 2014 World Cup quarterfinals, and did so with a five-man defensive setup that frustrated opponents while also burning them on counterattacks. Pinto is in charge of Honduras now, and the Catrachos are built to do the same thing.
The U.S. is fully aware of what Honduras is likely to do, which should lead Arena to deploying a very attack-minded lineup, one with Clint Dempsey partnering with Jozy Altidore up top, and Christian Pulisic working as a central playmaker.
So what will be the key to breaking down the Honduran bunker?
"Like anything else, whether it's a back four, back five, back three, (it takes) good ball movement," Arena said on Thursday. "Good movement off the ball, looking to counterattack when those possibilities are there, winning the ball back quickly and attacking with the team in numbers.
"Again, no one can ever predicts how any game's going to go, how any team is going to play," Arena added. "Regardless of that, we're prepared to deal with any kind of tactics that the Honduran team employs, but certainly any team that plays with greater numbers behind the ball it's going to take some creative play, good, quick ball movement and a little bit of luck. Obviously set pieces then become important and just a simple understanding of our players how to break down those types of formations."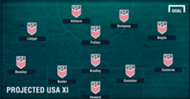 Though Arena tried to play coy about what he expects from Honduras, it wasn't tough to figure out that the U.S. has spent quite a bit of time working on how to break down a team with heavy numbers in the defensive half.
"We've worked on it this week almost every day now, just trying to break down seven guys that are sitting in and when they are sitting in deep," Sacha Kljestan told Goal "Even if we're playing nine against seven or eight against seven, it's still hard to break them down because they just kind of clog up the space and they sit back in front of their goal.
"Sometimes shots from distance will open them up, sometimes just floating around and making quick combinations," Kljestan added. "Especially in a game like that, where teams sit back, any time you can create turnovers in the midfield and then go right away, before they can get back in their defensive shape, will be important."
"Obviously I think we're probably going to have a lot of possession, which is something they'll give up by having five in the back, which I think they're OK with defending deep. The important thing is, when the ball gets wide, when you get these talented guys out on the ball, that they can take guys on one-on-one and put good balls in the box, whether that's a cross or a cut-back to a trailing midfielder. I think crosses and 1-v-1 in the wide spots are going to be important."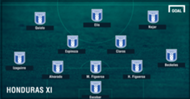 If there was one theme echoed by several U.S. players, it was the need for patience in possession.
"Patience is important," Michael Bradley said when asked what would be the key to breaking down a defensive-minded team. "You understand that when you play against a team that has a lot of guys behind the ball, and lines are tight, the understanding that things aren't going to come easy. There's not going to be tons of space. It's not going to be, I wouldn't think, a wide-open game. We've worked on a few things in terms of how we would like to go about things so that we can put them on their heels a little bit, and be dangerous and tilt the bar in our favor."
Arena will look to have Pulisic be the key to helping unlock the Honduran defense. His quickness, passing touch and ability to take defenders on the dribble make him an ideal option to find gaps. Pulisic made it clear what his approach will be if the U.S. faces a heavy-bunkering opponent.
"Just being relentless, and attacking, and going and never stopping until the 90th minute," Pulisic said. "Sometimes it's not easy to break teams down because they do defend well. It's not going to be easy tomorrow. We don't know how they're going to play yet, but we'll find out."
Honduras does boast a tough defense, but also a trio of dangerous speedsters in attack in Andy Najar, Alberth Elis and Romell Quioto, who will look to do damage on the counterattack, and who are capable of punishing mistakes if the U.S. is sloppy with the ball.
That will make for a challenging task from a U.S. defense that could find itself standing and watching for long stretches, but that must be aware of the Honduran speedsters when the ball turns over.
"It's just a matter of those key moments and making sure that you're aware and you're fully concentrated for 90 minutes and not taking a step off and not being in la la land," Geoff Cameron said. "You have to be 100 percent focused because it only takes one play to be switched off and they're on a counterattack."
Key to the Honduran attack is Najar. The former D.C. United standout and Anderlecht star is versatile enough to play in any of the attacking spots, but is likely to test the U.S. fullbacks in a wing role, either on the right or the left.
"Andy's special because he can play in pretty much any spot on the field," said Kljestan, who was a teammate of Najar's at Anderlecht. "This season he's played at left back in some big games for Anderlecht. I expect him to play on the right wing here, and I've told the left backs he's strong 1-v-1 and that, despite his small stature he's a very physically strong guy whose very good on the ball, dribbling, cutting, finishing plays off as well. He's a handful."
If the U.S. defense can stay disciplined when the Honduran counterattacking opportunities take place, and the U.S. attack can have the necessary patience and sharpness to break down the Honduran defense, the Americans can secure the victory they sorely need. It's a task they understand, but still one that won't be easy.