United States
U.S. coach Arena: 'We're going to start talking about winning a World Cup'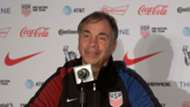 U.S. coach Bruce Arena believes his team could be among the favorites to win the 2026 World Cup.
The United States has submitted a joint bit along with Mexico and Canada to bring the world's largest soccer competition to North America in nine years. The U.S. has only hosted a World Cup once before — back in 1994 when the sport was less popular among Americans than it is today.
PODCAST: Schweini's impact in MLS so far
"In 1994 I think the U.S. was looked at as this emerging frontier in the game and FIFA wanted to bring the U.S. into the world's game," Arena said during a conference call Thursday. "I think in 2026 we're going to be fully emerged in the game and a big player. I think 2026 will be the time where we're going to start talking about winning a World Cup to be honest with you.
"It wasn't going to be in 1994, it wasn't going to be in 2010, but 2026 could be our time. I think that's the difference."
The U.S. finished in 14th place in the 1994 World Cup, but soccer has grown immensely in the country over the past 23 years. With Major League Soccer planning to expand to 28 teams in the coming years and young American talent emerging on the global stage, Arena believes the U.S. may be in a position to really succeed on home turf in 2026.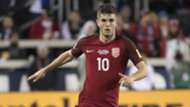 "We're one of the host countries, which is an advantage," Arena said. "Think about where we're going to be in nine more years. Think about where we were in 1994, '98, 2000, keep going, and just think about where we will be with even nine more years in our league. Eight or nine more years of players developing all over the world, and then playing a World Cup in our country. I think we're going to be positioned to be a big player by 2026.
"I'm not saying we're hosting the World Cup, but if we were (to host)."
Which U.S. prospects will play in 2026
Arena is currently focused on the 2018 World Cup and ensuring the U.S. qualifies for the tournament. Hired to replace Jurgen Klinsmann after the German coach lost the first two qualifiers in the Hexagonal round of CONCACAF qualifying, Arena helped the Americans secure four points from the March qualifiers — a rout of Honduras and draw in Panama — and now is preparing to lead the Americans into June qualifiers against Trinidad and Tobago and Mexico, with the second match being the rivalry game in Mexico City's Estadio Azteca.
Though the U.S. is in a better positioning in qualifying now than before Arena took over, the U.S. boss isn't taking things for granted heading into June.
"There's no loss of urgency. we're far from out of the woods here," Arena said. "I think we have very little margin for error, so there's a lot of urgency in these two games."