KPL
Ulinzi Stars challenged to be ruthless in front of goal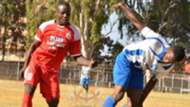 Ulinzi Stars have been challenged to rise to the occasion and be ruthless if they are to win the title this season.
The soldiers have struggled to score goals this season and lost their match day four fixture 2-1 to AFC Leopards at Thika Stadium. Striker Kevin Amwayi now believes that the team can only thrive this season if they become ruthless.
In the AFC Leopards game, for example, Amwayi, a second half sub, says they lost a myriad of chances that could have served an easy win and he hopes that will be the last such memory they take, going into the coming matches.
"I think we have seen it all in the first four matches and now we need to bring out the real Ulinzi Stars ruthlessness. We need to make use of the many chances we create and we need to be very sharp in attack," Amwayi told the club's official website.
"We are playing well but dropping points due to wastefulness in attack. That has to stop for us to be able to challenge for honors this season. Against Leopards we had many chances and that should be a lesson to us as a team."
Amwayi, who missed the second and third matches of the season, has called on his mates to be positive and only look back to the previous three rounds for motivation going forward.
"What has happened is behind us now; we can only take the lessons and move on but for the weekend this is a must win game for us. We have made mistakes in the last three matches and we have to be positive and rise from all that."