UEFA Europa League
UEFA Europa League 2019-20: Time for Paul Pogba to show consistency in Manchester United shirt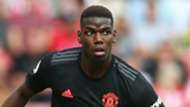 No other player at Old Trafford has divided opinions as sharply as Paul Pogba ever since the French midfielder returned to Manchester United for a world record transfer fee from Juventus in the summer of 2016.
The former Le Havre graduate was supposed to be the poster boy of Manchester United's rebuild as they sought to establish themselves as the top dogs of England once again in the post Sir Alex Ferguson era.
However, three years into his second stint at Manchester, a mercurial and inconsistent Pogba has become the embodiment of all that is currently wrong at United. There is no denying that the Frenchman is among the most talented midfielders going around in Europe with his displays in the 2018 World Cup winning campaign for the Les Blues justifying that lofty tag.
Sadly, that consistency he has shown for France and even Juventus previously has eluded him at Manchester for the most part. The most common theme that has accompanied Pogba's displays in a United shirt is patches of pure brilliance filled with goals and assists followed by a lean spell where he can look like the most disinterested player on the pitch.
This up and down form of Pogba was on display last season with the Frenchman going on an extraordinary run following the arrival of Ole Gunnar Solskjaer as interim manager. The midfielder bagged 16 goals and 11 assists across all competitions in what is his most prolific season so far in a United shirt but even then, his form fizzled out towards the end as United missed out on a top-four spot.
That same inconsistent script looks to be repeating this year with Pogba starting the season with a bang against Chelsea where he bagged two assists. Since then, a costly missed penalty against Wolverhampton and sub-par displays in the subsequent clashes against Crystal Palace and Southampton have seen Pogba revert to his inconsistent shelf.
There is no denying that the Frenchman is the most talented outfield player in United's books and there is a reason that Real Madrid's Zinedine Zidane is a huge admirer. However, until Pogba starts delivering on a consistent basis, that extraordinary potential will continue to go to waste.
As United look set to start their UEFA Europa League campaign against Astana, there are concerns that Pogba might not be fully fit to make the tie. But the fans will hope that he delivers to his potential in case he makes the tie.
Here's how to watch the UEFA Europa League LIVE from SouthEast Asia