U17 World Cup
U17 World Cup: Luis Norton: Would like to see every Indian team play against Ghana and Colombia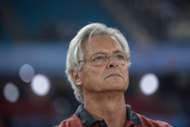 India Under-17 team's sojourn in the World Cup ended on Thursday as they went down 4-0 to Ghana at the Jawaharlal Nehru Stadium, Delhi.
Luis Norton de Matos stated that this group of players would go onto become the best if they continue to play competitive matches. The former Benfica 'B' coach was asked to analyze the performance of the team in the World Cup where they conceded nine goals.
"I would really like to watch, even the first Indian team play against some of these teams in an official competition. A lot of gap exists between these teams. You want to analyze every goal and game. However, you must know the process of development begins with the growing up of these players.
"They have now suffered goals, some stupid ones. But we need that to progress. If the game against Maldives or Nepal or Bhutan, the story would have been different. This is the top level. We are the only team in the competition who have made it without qualification."
He pointed out that even a top team like Chile has conceded as many as seven goals in the competition which would help out India's performance to perspective.
"When I came to India, I was told that a point is enough. We were very close to doing it against Colombia. Against USA, there was a penalty. It was a soft penalty but what is a soft penalty? If I rob a bank for a small amount, I will still be a thief. So it's a penalty or not a penalty. This culture must be introduced in everyone. Everybody must learn.
"You need to start the process of with five-to-six years old. We weren't playing against New Caledonia. Chile has conceded seven goals. We are India and I'm very proud of the behavior of the team. I'm sure you will remember my words – this is a fantastic generation. The things the country must do with the grassroots and then only you will have results."
Norton shared New Zealand's example who conceded 13 goals in the Under-17 World Cup close to a decade back and are now regulars in the World Cup.
"New Zealand in the 1997 Under-17 World Cup gave 13 goals and since then with sGome organization, they have made it to World Cup regularly. We must start the process now. It's very easy to start this. It's a question really of whether we want it to start or not. If not, then this is impossible.
"We played against Mauritius in Goa and they didn't have a single shot to our goal. What does it show? It shows we can beat teams which India Under-16, India Under-18 and even the senior team have difficulty to beat. We need to invest in these boys and give hope to the country. The idea is to play football at an earlier age."