U17 World Cup
U17 World Cup: Luis Norton – Every Ghanaian player could have decided the game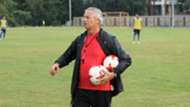 India went down 4-0 to Ghana in their final Group A game in the World Cup Under-17 at the Jawaharlal Nehru Stadium, Delhi.
Coach Luis Norton was honest in his assessment of the game and stated that his side didn't stand a chance against the African nation.
"Our team news was after two hard games at this level, it was very complicated. Ghana was the strongest team in the group. All African teams in this age level are very strong. They are fast and strong in duels,
"We knew we cannot have the ball as they have players with a lot of good skills. Every Ghana player can decide the game. Their right and left full-backs too. It was impossible today and we need to know the reality. I knew that we would suffer a lot in the third game. We had our chances in the first two games. Today was impossible as the difference in quality was just too big."
He pointed out that his team was physically drained of energy and hence, they leaked in two goals in the last 10 minutes or so.
"When you are completely tired, your brain stops to function. It just doesn't work. We lost the ball in certain zones where we didn't in the other two games. Ghana can play eight games in three days and they won't have a problem. Congratulations to Ghana and I cannot say that we had a chance. We had no chance. I am proud of my players."