U17 World Cup
From badminton racquets to goalkeeping gloves - Dheeraj Singh's journey to India U17 World Cup team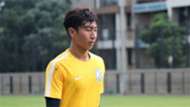 Goalkeepers are the least appreciated footballers. They don't get to enjoy the spotlight as much as some of their teammates who play further forward on a football field. But their importance to the team remains intact nevertheless.
Coaches know how important the man between the sticks is and if he's having a good day in goal, it could very easily be the difference between a win and a loss. India U-17 head coach Luis Norton de Matos, however, can count himself lucky on that aspect as he has three tall and strong custodians at his disposal - Dheeraj Singh Moirangthem, Prabhsukhan Gill and Sunny Dhaliwal. 
Dheeraj Singh Moirangthem was 11 when he got his first major break with a Manipur local team in Kalyani. The tall goalie later was picked up for the AIFF Academy and subsequently the U-14 Indian team. From there to the U-17 team that is going to contest the FIFA U-17 World Cup, it has been an awe-struck journey for the now 17-year-old.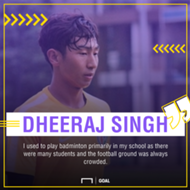 Never in his wildest dreams did Dheeraj even think of making it to the national team. And what is particularly interesting about his journey is that he didn't kick it off by playing football. Dheeraj, who was just another school going sports lover, initially took a liking to Badminton.
"First of all, I never thought of playing for the national team. I never thought of playing in the World Cup. Whenever I would get time, I go out and play on the field and in court. I used to play badminton primarily. I studied in a residential school - Jawahar Navodaya Vidyalaya. There were many students and the football ground was always crowded. That was one of the reasons why I preferred playing badminton," reveals Dheeraj.
However, his footballing break came when he played for his Bisnupur district (where his hometown Moirang is situated) in a state level football tournament and was subsequently selected for the Manipur junior team. He would subsequently be inducted into the AIFF Elite Academy. 
The kid who once stayed away from crowded football grounds is going to be taking the field for India U-17 national team for the biggest honours in U-17 youth category and that too, as a goalkeeper. He has come to realise during his journey in the last few years, hard work always pays off.
"The goalkeeper is the most important part of the team. We have been especially training hard for the last two years. We have had many experiences, I keep on learning from the exposure which I got in the last two or three years. I have been working with the coaches - the goalkeeping coach, the assistant coach, the head coach. We are mentally and physically prepared for the World Cup. The time has come to deliver and I am more focused than ever," spoke a determined Dheeraj Singh.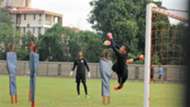 Not only has the Manipur-born youngster learned new things from Norton and his staff, he has also been humble enough to accept his negatives and make the necessary corrections to his game over the years.
"First of all, I have done many negative and positive things in my journey. I have learned so many things. I have been in many situations in the last 3-4 years and the experience will help me give my best in the coming matches."
Luis Norton took charge at the helm earlier this year and since then, it's been steady sailing for the Indian ship. Dheeraj has learned from all the different captains that the ship has seen come and go.
"Different coaches have different thinking & different methods. It is good for me that I have worked with many good coaches. He [Norton] has been working on keeping the ball, letting the players take the risks with more touches."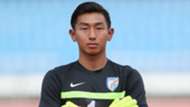 Although the FIFA event is going to be his biggest experience yet, Dheeraj is not new to pressure. He played in the SAFF U-16 tournament in 2013 and also at the AFC U-16 championship. He will be hoping he can repeat such heroics against India's group rivals USA, Colombia and Ghana next month.
"I have watched videos of matches of USA, Colombia and Ghana." Dheeraj analyses, "They are technically very good. The United States are much superior to both the other teams. They are the strongest side in our group in my opinion. Ghana is more about physicality. But Colombia is also a strong side."
Dheeraj and his teammates are ready to produce their best performances till date for the nation when football takes over India in a few days' time. And for the 17-year-old from Manipur who is living his dream, the time is now.