Manchester United
'Two assists for Manchester City!' - Lukaku ridiculed after derby mistakes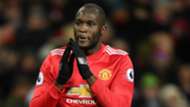 Romelu Lukaku found himself in the firing line in Sunday's Manchester derby after inadvertently contributing to two Manchester City goals at Old Trafford.
The Belgium international has found the net regularly since joining Manchester United from Everton, but still faces doubt over whether he can produce the goods in big games. 
He was definitely a threat in the area on Sunday, but unfortunately for the hosts mostly in his own area. 
Lukaku was at fault for both City goals after giving the ball away in dangerous areas, and he was forced to face the wrath of Twitter users as the derby continued...
Lukaku trying to defend. pic.twitter.com/OyW7B6rfB3

— Coral (@Coral) 10 de diciembre de 2017
Lukaku with two assists now. Both for City.

— Jonas Giæver (@CheGiaevara) 10 de diciembre de 2017
Lukaku don get two assists for Man City today. #MUNMCI #ManchesterDerby

— Man United In Pidgin (@ManUtdInPidgin) 10 de diciembre de 2017
Lukaku's season:

Superb start 
Major drought 
Assisting two city goals #MUNMCI

— Ladbrokes (@Ladbrokes) 10 de diciembre de 2017
Romelu Lukaku has had 2 touches in the Penalty area and both of them have resulted in 2 goals for Manchester City.

You can't make this stuff up.

— Danny Welbeck (@WelBeast) 10 de diciembre de 2017
"I layeth a table down, for my enemies" - Lukaku 4:25

— Wọlé II (@Kingwole) 10 de diciembre de 2017
Lukaku is NOT a big game player

— Ethan Payne (@Behzinga) 10 de diciembre de 2017
Who is the better footballer?

Rt - This Turnip

Like - Lukaku pic.twitter.com/Ifd3bfQUP3

— Football Fights (@footbalIfights) 10 de diciembre de 2017