Premier League
Too much, too soon: Why Dele Alli must emulate Bale's rise to supremacy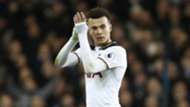 ---
COMMENT
---
It's common knowledge that English players come with a premium. There was no surprise, then, when arguably the most exciting prospect in English football, Dele Alli, was linked with an eye-watering £100 million summer switch to Manchester City, with Manchester United and Bayern Munich also said to be interested.
Arsenal taunted after Champions League humiliation
On the back of such rumours, and their potential head-turning effects, Alli's Tottenham team-mate and close friend Eric Dier told Sky Sports: "I think he's at the perfect place for that because he's got a support system around him and a manager and a group of players that will take care of him. You have to worry about young players sometimes in certain places if they can cope with it and will they be looked after as a 20-year-old boy and not just an asset."
The last line is a telling one. So often we see players throw their reputation into question for a bumper pay-packet. Spurs have historically lost key players to bigger spenders in the Premier League, including Michael Carrick and Dimitar Berbatov who were both sold to Manchester United.
However, it is Gareth Bale's rise to the top of European football which Alli should look to emulate. The Welshman dismissed interest from a number of Europe's elite clubs to develop his game at White Hart Lane, attuning himself to the demands of the Premier League before making a record-breaking move to Real Madrid. Bale's timing was almost perfect.
Alli has the ideal manager and surroundings in north London to become the world-beating star he has the potential to be. The 20-year-old is enjoying his finest season to date and is again a major component in Mauricio Pochettino's side who are challenging at the top of the Premier League for a second successive season. Chelsea's stunning form this term means a league title is again unlikely for Spurs, yet they undoubtedly have the potential to become champions of England in the not-so-distant future. Alli is vital to those plans.
Moratti: Inter should pursue Jesus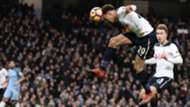 Eleven goals in 22 Premier League appearances this season mark his finest season to date, with a third of the campaign still to play. He will surely become even more influential, too, as Pochettino constructs a squad around both he and Harry Kane.
Scholes makes lofty claims about Man United Europa League chances
"There's no doubt he is and will be one of the best players in England in the next 10, 12 years. And England represents Europe, and maybe the world too," Pochettino said of Alli following his his match-winning performance against table-topping Chelsea in January.
Pochettino's commitment to having his players perform at the highest level in each game should be commended, and again, Alli is a major part of that drive. No longer is the England international merely an exciting player on Spurs' books, but his winning mentality has made him a key member of the team.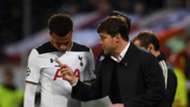 Too much change too soon will only hinder a player's development. One only has to refer back to Mario Gotze's switch from boyhood club Borussia Dortmund to Bayern Munich in 2013 as an example, when the golden boy of German football failed to live up to his reputation in unfamiliar surroundings. The expectations surrounding Alli are comparable to that of Gotze at the same age.
Man Utd fixture pile-up is trouble for Mou
Alli may very well need to leave north London in order to win silverware, or at least to the level which he deserves. However, timing is everything, and the foundations are being put in place at Spurs to aid his transition into a truly world-class player.