Alexei Smertin
'This is the best World Cup ever' - Smertin lauds success of Russia 2018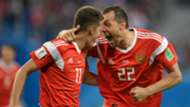 Former Russia international star Alexei Smertin believes that World Cup 2018, hosted by his home country, has been so good that it is the greatest in history.
The Chelsea and Fulham midfielder turned his hand to politics after his playing days, leaving him in the position to become the Russian Football Union's anti-racism and discrimination inspector at their showpiece event.
Many media outlets had raised fears around Russia's ability to organise an international event of this magnitude. Particular focus had been on racism, which is in Smertin's remit, along with logistics around the tournament and hooliganism.
Smertin believes that Russia has helped to kill off some of the negative stereotypes around the country and is keen to celebrate the success of the tournament so far.
"Before the World Cup, there were so many fears on the part of foreign media, and we are glad that after arriving here all the negative stereotypes were destroyed," Smertin told Goal. "Everyone has seen the diversity of Russia and our hospitality.
"The FAN ID system in practice received the highest ratings, the cities perfectly prepared all infrastructure for the championship. Most importantly, this holiday has been a success. We receive exceptional reviews about this World Cup - from teams, from fans, from officials - everyone is happy that this holiday of football is here, in Russia.
"For me personally this is the best World Cup in history. In all cities, an incredible atmosphere has been created, the whole country is living this football all this month. I am sure that this is the best legacy and the most pleasant thing is that we have two whole weeks to enjoy this holiday. The most interesting part of the tournament is yet to come."
Russia surprised some by being the first team to qualify for the last 16 after beating both Saudi Arabia and Egypt. However, their group stage ended in a 3-0 defeat to Uruguay and they have drawn Spain in the knockout phase. Smertin said he is not surprised with Russia's qualification and he thinks work rate will, once again, underpin any further success in the tournament.
"The Russian team did not surprise me with the results so far," he added. "I was waiting for the team going to the knockouts from the very beginning. There was confidence in the actions on the field, they seemed at ease, especially in the first two games.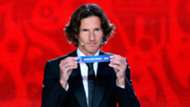 "The team was able to cope with the pressure. In any case, we eventually went to knockout stage for the first time in the history of Russian national team [after the Soviet era]. Of course, Spain is the favourite on paper, but Russia have our own style which can help us to win.
"I'm sure that our guys will lay out without rest on the field and will be able to surprise the opponent. Yes, we have never beat Spain at this level, but once we have to start!"