Manchester United
The shocking fixture pile-up that shows Manchester United are 'in trouble'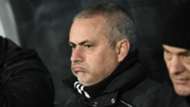 ---
COMMENT
---
"We will be in trouble in April and May, but we cannot choose competitions." So said Jose Mourinho on Wednesday as he contemplated a horrendous fixture pile-up which could see Manchester United forced to play four games in the final week of their league calendar.
Scholes predicts Man Utd's season finish
United host Saint-Etienne on Thursday knowing that progress beyond the Round of 32 in the Europa League will increase the possibility of the 20-time English champions being left with a nightmare run-in on multiple fronts. For while they will end their EFL Cup campaign one way or another against Southampton a week from Sunday at Wembley, two more final appearances would fill up their schedule and then some.
Mourinho's side could yet have 28 games still to play over the remaining 14 weeks of the season, with March's international break helping to condense an already-bursting United calendar.
There are 13 rounds left of the Premier League season, while a run to the Europa League final would add a further seven fixtures beyond the two coming up against Saint-Etienne. And before the League Cup final, they travel to Blackburn Rovers for an FA Cup fifth-round clash on Sunday. A draw at Ewood Park would result in a replay at Old Trafford, and progression to the final would add a total of three more fixtures in the flagship knockout competition.
The FA might have already done away with replays in the last three rounds of the FA Cup, but there is little more the authorities can do to rescue United from their potential headache. If they go all the way they will find themselves having to squeeze all 28 matches into only 27 slots in the calendar.
They have already had to postpone their Manchester derby clash with neighbours City, which was due to be played on February 26, thanks to their continue EFL Cup involvement. And FA Cup quarter-final and semi-final dates would result in further delays to the league fixtures against Southampton on March 12 and Sunderland on April 8.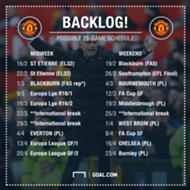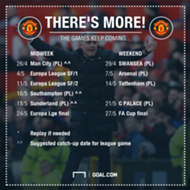 That would leave them catching up an almighty number of games in the final weeks of the campaign. Yet if the price of success is exhaustion, Mourinho is more than ready for United to pay it.
"The next few weeks I don't think are too dramatic because we play tomorrow, Sunday, Wednesday, Sunday… I don't think it's too dramatic because after the final we have a few days. The problem is the postponed match against Man City, then there might be Southampton rescheduled.
"April and May will be very, very, very, very hard if we progress in all the competitions. So hopefully it will be very, very, very, very hard."
There are some measures the manager is ready to take, but he insists he will never leave his side short-handed in terms of their game-readiness.
Bailly flourishing after talks with Mourinho
"We try to work in a way that offsets the difficulties. We do a lot of work in injury prevention. We try to analyse the players and decide when is the right moment to give them a rest. I always try, even in cup competitions, to play teams with some structure, some experience, some balance, so you can never expect from me a team completely unexperienced."
But even a squad of United's incredible depth could find itself stretched by such an incredibly-congested run-in. And if they were to make it to the finals of both the FA Cup and Europa League, as well as make an assault on the Champions League positions, their intense final months should surely result in a rethink of the fixture calendar.