Young Africans
Top 5 best games: Simba vs Yanga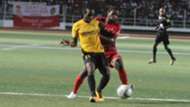 Simba and Yanga are by far the two biggest clubs in the country with 45 league titles between them.
These two sides have historically been the dominant sides in Ligi Kuu Bara, and despite there being no league title for Simba in five-years, when the pair meet, there's bound to be action.
Simba and Yanga have been rivals since the 1960's, and even with their close proximity, this derby is more than just about geography.
On the pitch, there's been 99 league games, with Yanga having come out on top 10 times more than the Simba, who've managed 26 wins whilst there's been 37 draws.
Goal  counts down the top five games between the rivals over the years.
---
Yanga 5 v 0 Simba "Sunderland" (June 1, 1968)
---
This was match was played in the days that Simba were still known as Sunderland.
Two goals a piece from Saleh Zimbwe and Maulid Dilunga and one goal from Kitwana Manara "Popat" were enough to seal the big win for Yanga.
This was three years after the Tanzania league was established.
---
Simba v Simba (March 3, 1969)
---
Following a heavy defeat in the first game, Simba missed the reverse fixture by worrying about a strong Yanga side, that meant free points for the Jangwani based club.
This caused huge drama and it will be remembered for many years to come.   
---
Simba 6 v 0 Yanga (July 19, 1977)
---
The man of the match was the late Abdallah Kibadeni "King" who bagged the only hat trick of this fixture.
Kibadeni scored in 10th, 42th and 89th minutes while other goals were scored by Seleman Sanga and an own goal from Ezekiel Greyson "Jujuman".
Simba went on to win the Premier League title that season ahead of Yanga who were in an internal-crisis.
This is probably the most memorable match between the sides as no other match since has managed to produce a hat trick.
---
Yanga 0 v 5 Simba (May 7, 2012)
---
The latest heavy defeat between the sides in current times.
Two goals from Ugandan Emmanuel Okwi, one a piece from Felix Sunzu, Juma Kaseja and the late Patrick Mafisango were enough to give Simba another historic victory over their arch rivals.
This was the last match of the season in the  Premier League were Simba headed into the match having already won the title.
---
Simba 3 v 3 Yanga (October 20, 2013)
---
Yanga's three first half goals from Mrisho Ngassa and Hamis Kiiza who scored twice were cancelled out by Betram Mwombeki, George Owino and Gilbert Kaze's second half dramatic come-back.
The Jangwani based club started the game brighter and quicker and it appeared that it will be a long day for Simba who were second best for most of the first half.
However, the half time talk seem to have jolted Simba into life, they returned with more energy and purpose while  Yanga lost concentration and allowed one of the greatest comeback in this fixture.