Al Hilal Omdurman
Tetteh rejects Al Hilal second chance after terminating his contract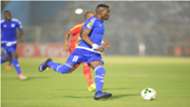 Sudanese giants Al Hilal recalled Ghanaian striker Abednego Tetteh after mutually terminating his contract on Sunday but the 24-year-old has rejected a return to the outfit.
The North African side crashed out of the Caf Champions League following a 2-1 defeat to city rivals Al Merriekh, leaving them bottom in Group A with a game left.
Following the defeat, an official of Hilal stormed the apartment of Tetteh under the instruction of the club's president, and handed him a letter to officially terminate his two-year contract which was expected to expire in November 2018.
However, the club's board of directors met Tetteh on Tuesday to rescind their decision but the Ghanaian insisted he is not interested to represent them anymore, noting that he has been disgraced and disrespected after it was published in the club's newspapers that he has been release due to poor performance.
"I am here to prepare for another opportunity after leaving Sudan. Things like these are bound to happen but in all things, I give thanks to God," Tetteh told Goal.
"To be honest, I felt disrespected following the publications that I am not good enough for the club so after they decided to take me back, I also told them I am not ready for any opportunity again. I don't have love and commitment to play for a club that can disgrace a player because we were eliminated from Caf Champions League.
"I am here to restrategise for the future and hopefully, everything will be well because I know my capabilities. I am young and still have the potential to make it to the highest stage," he added.
Tetteh spent seven months with Hilal and scored 10 goals in all competitions.
Goal understands that Hearts of Oak have made a move to sign Tetteh while there have been interest also from an unnamed club in the United Arab Emirates.